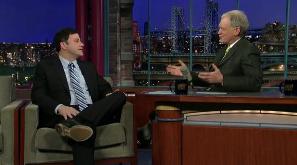 After collaborating in the Jay Leno-bashing during the NBC late night wars, David Letterman and ABC's Jimmy Kimmel reminisced on the experience during Kimmel's guest spot on the CBS late show last night.
Both described it as "fun," but only Kimmel was armed with a few more jabs.
"I can't tell you how much I enjoyed your participation in the Jay Leno scandal," said Letterman, opening the door to the discussion. But Kimmel brought up the peace offering from Letterman during the Super Bowl: "We had him, we were drowning him, and you throw a lifesaver out to him during the Super Bowl."
Letterman brought up Kimmel's show-long portrayal of Leno in January ("It's fun to be Jay, it's easier," said Kimmel) as well as the awkward roast during the [email protected] segment. "He asked me 10 questions about nothing and I asked him 10 questions about stealing Conan's job from him," the ABC host said.
But Letterman largely stayed above the fray, declaring the whole thing a lot of innocent fun. "They lost hundreds and millions of dollars, we don't care about NBC," he said, keeping his focus trained on his former network. "Jay didn't get hurt, you didn't get hurt, Conan didn't get hurt, I certainly didn't get hurt, it was just a lot of fun."
It should be noted Kimmel's show runner is Jill Leiderman, who was a former field producer with CBS' Late Show and remains on good terms with her former employer.
Check out the exchange:


—–
» Follow Steve Krakauer on Twitter
Have a tip we should know? [email protected]