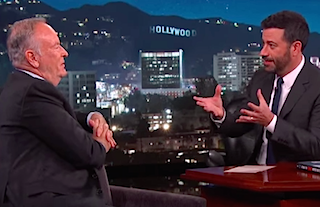 Before Donald Trump started openly trashing Bill O'Reilly on Twitter last night, the Fox News host taped an interview with Jimmy Kimmel, during which he actually had some pretty nice things to say about the GOP frontrunner. But once Kimmel brought up the idea of O'Reilly challenging Trump for the Republican nomination, he couldn't help but do some boasting of his own.
"He's an interesting phenomenon and is both good and bad in what he's doing," O'Reilly said of Trump, who is scheduled to appear on The O'Reilly Factor this Thursday night. "What Trump has done well is that he has articulated the anger of a lot of Americans, not just Republicans, by the way."
"However, along with that message comes responsibility," O'Reilly added. "And that's where Trump has to up his game if he wants to be in for the long run." He predicted that "once the Trump phenomenon diminishes," you will see more serious candidates like Marco Rubio rise in the polls.
"I don't think Marco Rubio can beat Donald Trump," Kimmel said. "There's only one person that can beat Donald Trump, and I think it's you, actually. I'm not kidding."
Asked if he thinks he could beat Trump in the Republican primary were he to run, O'Reilly said, modestly, "I don't know about that. All I know is I'm a good debater." He said he could "hold his own" in a debate against Trump, Hillary Clinton, Bernie Sanders, Joe Biden or anyone else running for president.
"If I was Donald Trump, I would be very, very friendly to you over the coming months," Kimmel told his guest. Well, that ship has sailed:
.@oreillyfactor was very negative to me in refusing to to post the great polls that came out today including NBC. @FoxNews not good for me!

— Donald J. Trump (@realDonaldTrump) September 22, 2015
.@oreillyfactor, why don't you have some knowledgeable talking heads on your show for a change instead of the same old Trump haters. Boring!

— Donald J. Trump (@realDonaldTrump) September 22, 2015
Watch video below, via ABC:
[Photo via screengrab]
— —
>> Follow Matt Wilstein (@TheMattWilstein) on Twitter
Have a tip we should know? [email protected]