Jimmy Kimmel Hilariously Proves The People Of Los Angeles Know Nothing About Politics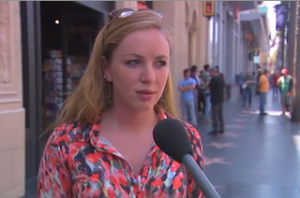 It was Election Day Tuesday in Los Angeles, though only 19% of the city's estimated 2.5 million registered voters turned out to help Eric Garcetti win his mayoral bid in a run-off against Wendy Greuel. Suspecting LA residents might be less-than-informed about the race, Jimmy Kimmel sent his "Lie Witness News" reporter out onto Hollywood Boulevard to see what they thought about the city's new mayor, before voting had concluded.
But instead of asking about one of the real candidates, Kimmel had his correspondent ask what people thought about Bruce Jenner, of Keeping Up With The Kardashians fame, being elected as mayor. The respondents were not as surprised as you may have imagined.
One man, who called himself "Christmas," said, "Honestly, it makes sense, for someone's who's always in the media."
Another woman, realizing he is "that Kardashian guy," called the news "interesting" and was relieved to find out that Jenner "used to be the Governor of New York in the 70's" therefore "has experience."
Other residents reacted with mild confusion to Jenner's plans to have a "tax-free plastic surgery week," "legalize marijuana for house pets with anxiety" and "ban Uggs during summertime."
The whole thing proved just how disengaged from the political process more than 80% of Los Angelenos appear to be. Of the lack of engagement from LA voters, Kimmel joked, "if we're not texting our votes to Tom Bergeron or Ryan Seacrest, we're just not interested quite frankly."
Watch video below, via ABC:
—
>> Follow Matt Wilstein (@TheMattWilstein) on Twitter
Have a tip we should know? tips@mediaite.com