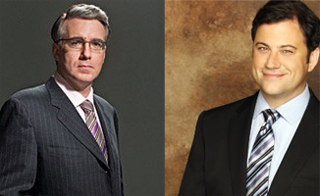 Is there any doubt that hosting the White House Correspondents Dinner during an election year is one of the most stressful activities a professional comedian can engage in? Putting aside the whole "having to make fun of the President of the United States to his very face" thing, the host has to go through getting his act analyzed by comedy critics…and political critics…and basically any person with a Twitter account and an opinion. Hell, biased media outlets will probably even start randomly attacking you for cheap political points. Really, there's nothing you can do that won't make someone get angry at you.
For Jimmy Kimmel, that someone was Keith Olbermann and now the late night host has responded.
RELATED: Keith Olbermann Hits Back At Jimmy Kimmel, Says He Reminds Him Of Bill O'Reilly
During Kimmel's monologue, he made a few jokes at the expense of Olbermann and his former employers (the most recent former employers) Current TV. At one point he joked that Olbermann had "more pink slips than Marcus Bachmann," a line that almost everyone found very funny.
Olbermann responded with a series of angry tweets accusing Kimmel of trying to get "revenge" for him declining an invitation to be a guest on Kimmel's ABC series.
Today, Entertainment Weekly spoke to Kimmel about his hosting and he responded to Olbermann:
"'I didn't even know they asked him to be on the show,' Kimmel says. 'The way I look at it, he's a major political figure in broadcasting over the past year and jokes had to be made about him. I guess he took it the wrong way. I'll call over or something and clear it up.'"
It would appear that Kimmel is trying to take the high road here. That's a good thing. But, really, if every man who'd ever gotten in a fight with Olbermann promised to phone him up, the former news anchor would have more male callers than Marcus Bachmann.
See? Anyone can make a Marcus Bachmann joke.
Anyway, check out the rest of the interview in which Kimmel describes how tough the WHCD room is and the story behind his reference to an old teacher over at Entertainment Weekly here. Watch the video of Kimmel's Olbermann jokes below:
Have a tip we should know? tips@mediaite.com