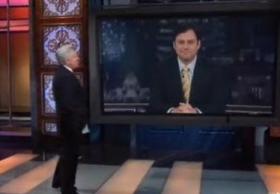 Jimmy Kimmel absolutely unleashed on Jay Leno earlier this week, and in a display of, well, something, Leno invited Kimmel on his show.
And he roasted Leno mercilessly. It's unbelievably uncomfortable. Seriously embarrassing. Why did this happen? No idea – but I'm glad it did.
So for those who aren't familiar with Jay Leno's "10 At 10" – most of you, probably – here's how it works. Leno asks 10 questions that are fairly benign, the celebrity who is appearing via satellite (oh, technology) answers them and then they move on to Jaywalking or Headlines or something. I think. I only really started watching the show this week. But tonight it was Kimmel, and he was a hilarious pain the ass.
Let's fast forward to question 4: "If you got to interview anyone in the world, who would it be?" Kimmel: "You and Conan together." And then it begins.
What's the best prank Kimmel ever pulled? "I told a guy that five years from now, I'm gonna give you my show. And then when the five years came, I gave it to him, and then I took it back almost instantly," said Kimmel
There was a lap dance question. "Strippers, I don't like in general," said Kimmel. "Because you have this phony relationship with them for money, similar to when you and Conan were on the Tonight Show together, passing the torch."
Leno asked "What would you like to host that you haven't yet?" Said Kimmel: "Oh this is a trick, right? Where you get me to host the Tonight Show and then take it back from me? Listen Lucy I'm not Charlie Brown I don't fall for that trick."
And more. I'll hand it to Leno – this doesn't really happen very often, especially in prime time, on network TV. You see, Leno's still in prime time. Until March. When he goes back at 11:30pm. And Kimmel's jokes are actually just a sad reality.
Here's the, um, awkward "10 At 10":


—–
» Follow Steve Krakauer on Twitter
Have a tip we should know? tips@mediaite.com