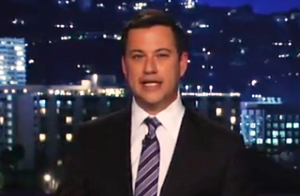 Initial reports show that ABC's Jimmy Kimmel Live had a very strong start in the ratings in its first show going head-to-head with NBC's Tonight Show and CBS' Late Show Tuesday night. Kimmel's 11:35pm debut was seen in 2.8% of households that have televisions, while David Letterman got 2.7% and Leno received only 2.4%.
As the Wall Street Journal notes, Conan O'Brien got a similar bump over his competition when he took over the Tonight Show at 11:35pm back in 2009. But his ratings soon declined, which led to NBC bringing Leno back to the Tonight Show and O'Brien departing for TBS.
Over the last few months, Leno and Letterman were averaging over a million more viewers at 11:35pm than Kimmel was getting half an hour later. Whether Kimmel's ratings victory last night is a product of novelty or represents a lasting advantage over his older competition (Kimmel is 45 to Leno's 62 and Letterman's 65) is yet to be seen.
Kimmel opened his show last night with a monologue centered on the new time slot, at one point joking, "I'm now 25 minutes closer to my life-long dream of co-hosting The View." He then introduced one of his now classic bits called "Lie Witness News" where he has a correspondent go out onto to Hollywood Blvd. and catch regular people making things up. In the past he's asked ridiculous questions like "Who won the First Lady debate?" But last night he turned the focus on himself, asking people what they thought of Jimmy Kimmel Live's new time slot… before it had ever aired.
UPDATE: Revised numbers reveal that in terms of total viewers, Leno had a slight edge over Kimmel. Leno had 3.27 million total viewers, while Kimmel had 3.1 million and Letterman had 2.88.
Watch the segment below, via ABC:
—
>> Follow Matt Wilstein (@TheMattWilstein) on Twitter
Have a tip we should know? tips@mediaite.com