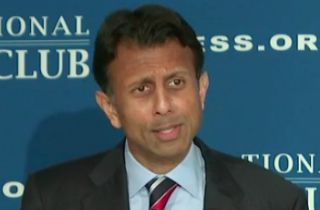 Bobby Jindal is the latest GOP candidate to pull out the big guns for Donald Trump, ripping him in a big speech today calling The Donald an egomaniac and a narcissist.
Jindal said at the National Press Club, "Donald Trump is for Donald Trump. He believes in nothing other than himself… Issues don't mean anything to him."
He called Trump a "narcissist" and declared (with a trolling invocation of Trump's own slogan), "We cannot nominate this egomaniac. Nominating Donald Trump is a certain way for us to ruin our opportunity to make America great again."
Jindal also snarked that "Donald Trump's never read the Bible" because he isn't in it.
And if all that wasn't sharp enough, Jindal's campaign released an ad today that––I swear to God––connects Trump to none other than the not-very-bright Brick Tamland from Anchorman.
In fact, in a press release today, Jindal campaign manager Timmy Teepell actually said, "Does Donald Trump really love these things, or is he just saying it because he saw them? The American people deserve to know: does Trump love lamp?"
In fact, instead of "Make America Great Again," this would be a more fitting Trump campaign slogan: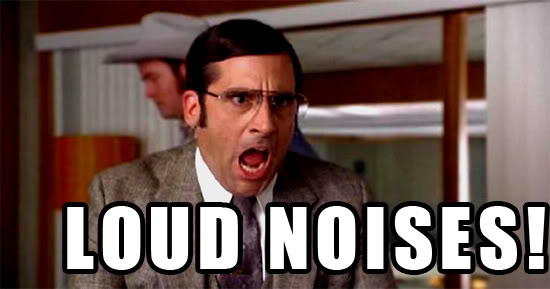 Watch a clip of Jindal's speech below, via CNN:
And behold the ad here:
Classic narcissist: https://t.co/MbjI6bSGkZ
https://t.co/pzk8X1fN1Q

— Gov. Bobby Jindal (@BobbyJindal) September 10, 2015
UPDATE – 4:22 P.M. EST Fox's Bret Baier tweeted out that Trump responded to Jindal's attacks by saying that he doesn't respond to anyone with only 1% in the polls:
. @realDonaldTrump responds to @BobbyJindal (1/2) "He did not make the debate stage and therefore I have never met him.

— Bret Baier (@BretBaier) September 10, 2015
(2/2) I only respond to people that register more than 1% in the polls. I never thought he had a chance and I've been proven right."

— Bret Baier (@BretBaier) September 10, 2015
Of course, Jindal didn't take that lying down:
.@realdonaldtrump is having a hard time lately & doesn't remember we
met. He wrote a check. A fool & his money… https://t.co/OyUdFu37DS

— Gov. Bobby Jindal (@BobbyJindal) September 10, 2015
[image via screengrab]
— —
Follow Josh Feldman on Twitter: @feldmaniac
Have a tip we should know? tips@mediaite.com
Josh Feldman - Senior Editor