JK LOL: Herman Cain Was Joking About An Electric Border Fence, Unless He Wasn't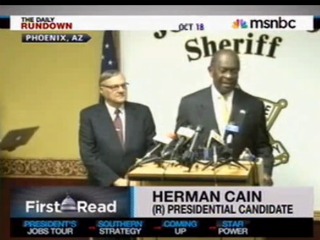 Herman Cain had an eventful Monday. Not only did he manage to kick off a pizza-related Twitter trend that successfully separated the fun-lovers from the fun-haters, he also had to deal with an unspecified security threat that made him late to a meeting with sheriff Joe Arpaio ("When you become a top-tier candidate," he explained to reporters, "a lot of nuts come out of the closet.") And yet he still found the time to make a great joke and/or a serious statement about an electric border fence.
You may recall that, yesterday, Sheriff Arpaio told CNN that Cain's comment about installing an electrified fence along the U.S. border was surely a joke: "Oh, I'm sure he was joking. But it probably means that he's taking it serious to do something at the border and stop the illegal immigrations."
RELATED: Sheriff Joe Arpaio: 'Electric Fence' Joke Means Herman Cain Takes Immigration Seriously
Cain confirmed that his comments were indeed made in jest:
Let me first say, it was a joke and some people don't think that it was a good joke. And it's probably not a joke that you're supposed to make if you're a presidential candidate. I apologize if it offended anyone. Mea culpa, mea culpa, mea culpa.
Almost immediately following that clarification and apology, however, and after a reporter said that his statements "didn't sound like a joke on video," Cain added that "we're splitting hairs here" and that he will "not apologize" for "using a combination of a fence and it might be electrified."
So: Herman Cain is apologizing for a joke that he made about an electric border fence, but he will not apologize for what may not be a joke at all.
Later on, Arpaio met with protesters and shared his own thoughts regarding all things fenced and electric:
I have an electric fence around the jail; I have illegal immigrants there. I have illegals on the chain gang. Nobody goes after me. He told a joke!
This conversation is all like so much Hawaiian pizza: Unpleasant, confusing, and instantly regrettable.
Have a look at how it all played out, via MSNBC:
h/t Phoenix New Times via TPM
Have a tip we should know? tips@mediaite.com