Joan Walsh Defends Biden's 'Knock-Off Jihadi' Remark: Suspects Also Products Of 'American Alienation'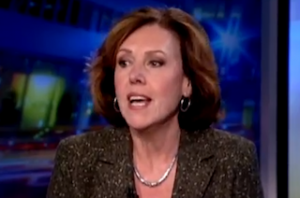 Salon editor and MSNBC contributor Joan Walsh joined Joy Behar on Current TV tonight to discuss, among other things, Vice President Joe Biden's speech at a memorial service yesterday for the MIT police officer killed by the Boston bombing suspects.
As Behar put it, the comment that has "set the teeth on edge in conservative circles" was Biden's term "knock-off jihadis" to describe the terror suspects. She asked Walsh what about that phrase was getting under Republicans' skins.
"They really want this to be all about terrorism," Walsh said, "and all about terrorism that Obama missed. And all about terrorism that he missed because he's a secret Muslim." She said that was the wrong narrative and Joe Biden has the "right narrative."
"There's an element of Islamic radicalism, we can't ignore that," she continued, "but there's also an element of being idiots, and being products of a certain kind of American alienation, too." Walsh's explanation of Biden's point is unlikely to sway many of his conservative critics, given her suggestion that American culture could have played as big of a role in the suspects' motivation as Islamic culture did.
Asked by Behar if it's "disingenuous" when people claim not to know why the bombers committed their terrible acts, Walsh said not necessarily. "Shouldn't every murderer be able to take an insanity plea because you've got to be crazy to kill someone?" she asked. "But there is the element of Islamic fundamentalism that does ignite a certain type of young man, globally, and that's going to be the only part of the storyline that some people want to pull out."
Walsh said that she is somewhat "surprised" by the way Republicans are "politicizing this tragedy." Unlike after 9/11, she argued, when Democrats "pulled together," Republicans are "calling for investigations when there are still funerals being held." She said it's just another example of how "polarized" we are as a nation right now, "how different the atmosphere really is."
During a heated discussion with S.E. Cupp on MSNBC's The Cycle yesterday, Walsh made similar arguments, saying the Boston bombing are in some ways more akin to mass shootings committed by white Americans than they are to religiously-motivated terrorism.
Watch video below, via Current:
—
>> Follow Matt Wilstein (@TheMattWilstein) on Twitter
Have a tip we should know? tips@mediaite.com