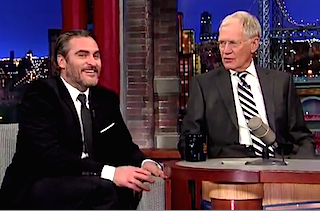 It's been nearly six years since Joaquin Phoenix had what appeared to be a nervous breakdown, but was actually just an elaborate promotion for his mockumentary film I'm Still Here, on the Late Show with David Letterman. When the actor returned to the CBS show last night to promote his new film, Inherent Vice, he appeared to have dropped the act and instead had a friendly, cordial conversation with the host.
But now it turns out not everything he said was on the up and up. Towards the end of the interview, Phoenix told Letterman an extended story about his yoga instructor, including a full-on demonstration of the "compromising and vulnerable position" she put him in. Then, he revealed to Letterman that he "proposed to her, and she said yes." The announcement received an excited round of applause from the audience.
Watch video below, via CBS:
But then, on Good Morning America this morning, Phoenix admitted to George Stephanopoulos that the whole thing was a joke.
"Are congratulations really in order? Are you actually engaged?" Stephanopoulos asked him.
"No," Phoenix replied. "I think like my life's so boring, and it seemed like something exciting to talk about, and I just want the audience to like me. They really like people getting married. So I thought I'd say I'm getting married."
"I can get engaged again, if you like," he added when the host accused him of "bumming out" the GMA audience.
Among the news outlets that picked up Phoenix's engagement story as news were The Hollywood Reporter, TheWrap, Us Weekly, The Daily Mail and ABC News, which remarkably still hasn't updated its story despite the fact that he made his reversal on ABC.
Watch video below, via ABC:
[Photo via screengrab]
— —
>> Follow Matt Wilstein (@TheMattWilstein) on Twitter
Have a tip we should know? tips@mediaite.com