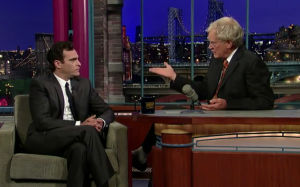 A year and a half ago when Joaquin Phoenix made his famously disastrous appearance on The Late Show, everyone wondered if his haggard and apparently drugged up persona was all an act. Now that he and Casey Affleck's film I'm Still Here has been released and we all know that it was, in fact, a hoax, many have eagerly awaited his return to the talk show. It happened last night and the interview was nearly as tense as the first one as David Letterman spent the entire time giving the actor a fairly harsh scolding.
Letterman took Phoenix to task for tricking him (he made the actor admit that he hadn't been in on the joke or scripted) as well as using most of the footage in the film without paying The Late Show a licensing fee. He even (jokingly?) told Phoenix that he owed him $1 million. When Phoenix, playing along, asked if they could discuss it in private, Letterman took a hard swipe saying they could go to one of I'm Still Here's screenings.
Really though, at this point, who's to say what's real anymore? Maybe Letterman wasn't mad and this was all a hoax. Maybe I'm Still Here 2 will come out in a year and a half and we'll learn that Phoenix and Letterman's clean cut exteriors are all an act and backstage they're actually drugged up messes. There are just so many questions! What's real? What's fake? And, most importantly, which one of these guys is the Devil in the elevator?!
Have a tip we should know? tips@mediaite.com