Jodi Arias Tells ABC She Feels 'Betrayed' By Jury, Calls Interviewer A 'Hater'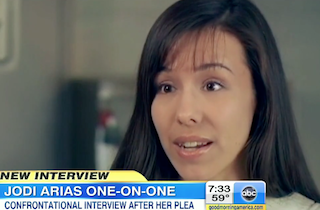 After attempting to convince the jury not to give her the death penalty, Jodi Arias made the media rounds, with interviews airing on both ABC and NBC on Wednesday morning. On Good Morning America, ABC's Ryan Owens aired a portion of his conversation with Arias, in which she said she felt "betrayed" by the jury… and called Owens a "hater."
Owens noted to viewers that Arias appeared very concerned about her appearance during the interview — and not especially worried about the "very real possibility" that she could be sentenced to death.
Asked why she never said the words "I'm sorry" to Travis Alexander's family, Arias contended that those words are essentially meaningless given that "nobody believes what I'm saying anyway." So why does she keep talking? Because she's lied before doesn't make her a liar, Arias said.
RELATED: PHOTOS: See Jodi Arias' Trial Style Evolution From Day One
Owens later moved on to the jury, asking how Arias feels toward them.
"I feel a little betrayed by them," she said. "I don't dislike them, I just was really hoping they would see things for what they are. And I don't think that they did."
After a few more questions about giving Alexander's family closure (why doesn't she accept the fate of the death penalty?), Owens bluntly asked, "Would you kill you?" Arias said she didn't believe in capital punishment, so no.
Other points they hit included Arias' courtroom makeover and Owens positing that she'll never tell the truth about what happened that night. Arias insisted she has.
Watch below, via ABC:

Have a tip we should know? tips@mediaite.com