Soledad O'Brien Hammers Jodi Kantor Over Her Controversial Book On The Obamas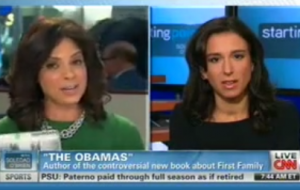 Soledad O'Brien welcomed The Obamas author Jodi Kantor on Starting Point Friday morning, and things got a little heated as O'Brien continuously tried to ask Kantor to defend her methodology in reporting the book.
O'Brien's main point against Kantor was that she hasn't interviewed the Obamas since 2009, but still wrote a book about details of their marriage (culled mostly from aides to the First Lady). Kantor defended her research by saying she had credible sources, sharing anecdotes that only these cooperative aides would have known.
"First Lady-hood is a really hard job," Kantor told O'Brien, in the statement that set off the argument. "If you read the Laura Bush memoir, for example, she talks about feeling very misunderstood as First Lady, she talks about the isolation of living in the residence. You know, the house is practically–"
"But in a way, isn't that the point?" O'Brien interrupted. "That's her memoir. So after she leaves the White House as the First Lady — who often people leave their hands off the woman who isn't elected to the office but is in the White House job to watch the kids… they write a memoir. And it's her take on her experience in the White House."
"But Soledad, your argument is that the First Lady shouldn't be covered in a serious way by journalists? I look forward to reading her memoirs. But a reported book by an outside fair observer is a totally different project."
"You have not interviewed her. You haven't interviewed her! You haven't inter–I don't even know the First Lady. I interviewed her once, many years ago. Four years ago. You haven't interviewed her since 2009," O'Brien countered. "And there are many moments in the book where you talk about things that are internal to her relationship with her husband the President. I'm just saying — I do think you should cover her as a journalist — I'm just saying you can understand how someone would feel having their relationship taken apart in a book, deconstructed in a book, from someone who hasn't done an interview with the two parties involved."
Watch a clip of the heated interview below, courtesy of CNN:
UPDATE: Kantor had a similarly frustrating interview Thursday night with Piers Morgan:
Have a tip we should know? tips@mediaite.com