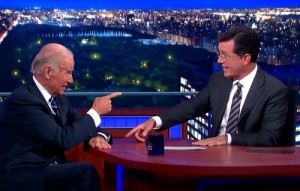 Vice President Joe Biden gave The Late Show's Stephen Colbert one of his best television interviews to date during Thursday night's program.
Colbert's growing stable of guests is remarkable for the number of non-entertainment celebrities it includes. 2016 presidential candidates, Supreme Court justices and CEOs have made or will be making appearances, and Biden's visit on Thursday surely contributed to this variety. However, what could have easily devolved into a partisan, Colbert Report-esque throwback became something much more elevated when the host began with a question about the recent death of the politician's son, Beau Biden.
"I know that he was a great man," Colbert said after offering his condolences to Biden. "I was hoping you could tell us a story about him."
What followed was an engaging conversation about parenting, death, faith and politics that visibly rendered both men emotionally vulnerable, yet honest. Between Biden's constant use of a comfortable phrase, "my dad (or mom) had an expression," and Colbert's frank discussion of his own faith, the interview felt more like an actual interview than a talk show promotion.
This is as good as Biden gets. Also: This is earnest Colbert, someone we never really have gotten to meet, and Biden is letting us meet him.

— Chris Geidner (@chrisgeidner) September 11, 2015
Colbert surely the only late-night host who could conduct this wonderful Biden interview. Poignant, probing and funny in just right balance.

— Dave Itzkoff (@ditzkoff) September 11, 2015
Of course, this comfortable, talkative environment paved the way for Colbert's inevitable question: "Do you have anything right now you'd like to tell us about your plans?"
Before Colbert could even finish, Biden responded with an emphatic "yes," which stirred the audience to a loud round of cheers. The vice president quickly pointed at Colbert and joked, "I think you should run for president again and I'll be your vice president." However, after some thought, Biden did answer Colbert's question.
"I don't think any man or woman should run for president unless, number one, they know exactly why they would want to be president, and two, they can look at the folks out there and say, 'I promise you, you have my whole heart, my whole soul, my energy and my passion to do this. I'd be lying if I said that I knew I was there. I'm being completely honest. Nobody has a right, in my view, to seek that office unless they're willing to give it 110 percent of who they are."
Check out part 1 of the interview, via CBS:
Check out part 2 of the interview, via CBS:
[h/t The New York Times]
[Image via screengrab]
— —
>> Follow Andrew Husband (@AndrewHusband) on Twitter
Have a tip we should know? [email protected]