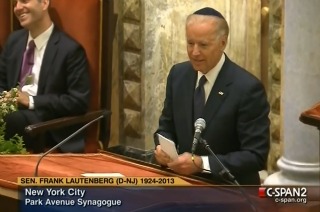 America's famously jovial Vice President Joe Biden knocked 'em dead on Wednesday with a heartfelt eulogy for the late Sen. Frank Lautenberg (D-NJ) in New York City. His touching, humorous tribute to the late senator, the last living World War II veteran to serve in the upper chamber of Congress, was warmly received by the audience.

"Well, if there is a definition of redundant, I'm it," Biden began, his opening line cracking up the assembled mourners.
RELATED: New Jersey Sen. Frank Lautenberg Dies At 89
"By the way, Josh, I'm representing the Pope," Biden added. "Frank used to call me the only Catholic Jew he knew."
"You've already all broken the rule I advise people to observe," he continued, "never make a good eulogy. You'll be asked again, and again, and again."
Speaking to the grandchildren of the late senator, Biden said that Lautenberg was a role model to him. "My wife says that I'm the most obnoxious grandfather in the world. No, wrong. Frank was the most obnoxious," he added.
"I knew Strom Thurmond so well, literally, I was asked to do his eulogy. This is a lot easier," Biden said to more laughs. "I'm about to get myself in trouble."
On a serious note, Biden addressed the grief that Lautenberg's family is contending with. "I realize that it's beyond my capacity to find the words to do justice to Frank Lautenberg," Biden added. "Obviously, I can't do justice to what he meant to all of you, or even what he meant to me and to this country."
Watch Biden's eulogy below via C-SPAN 2:
> >Follow Noah Rothman (@NoahCRothman) on Twitter
Have a tip we should know? tips@mediaite.com