Joe Biden Slams GOP For Relying On Voter 'Amnesia,' Proceeds To Flub Senate Candidate's Name Twice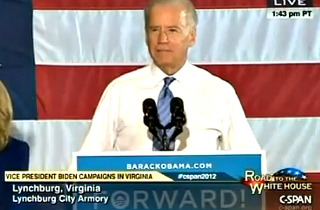 Speaking at a campaign event Saturday afternoon in Lynchburg, Va., Vice President Joe Biden accused Republican challengers Mitt Romney and Paul Ryan of trying to appear more moderate than their records actually show and banking on voters to have "amnesia" when it comes to pulling the lever on November 6th. During the same speech, however, Biden twice flubbed the name of the very Senate candidate with whom he was stumping.
Earlier in the speech, Biden noted how some of Romney's current positions do not match up with how he sounded during the Republican primaries earlier this year. The Republicans "are counting on the American people to have an overwhelming case of amnesia," quipped the vice president.
The presidential campaign trail is indeed a grueling and demanding one, and so it is understandable when candidates botch a name or two while speaking, but Biden's gaffe comes with a bit of unintended irony as the Obama/Biden campaign has recently focused on what they call the "Romnesia" of their Republican challengers. But while introducing former Virginia governor and current Democratic Senate candidate Tim Kaine, Biden said:
It's good to be in a state that's going to be represented by Tim Kaine. What a guy! What a decent, honorable man. That man has more integrity in his little finger than most people have in their entire body. I'm a big Tom Kaine fan, a big Tom Kaine fan.
Spokespeople for both campaigns immediately released statements based on the error: "Vice President Biden forgot the name of his own Virginia Democratic Senate nominee and he wants voters to forget about President Obama's failed economic policies and lack of a real agenda for a second term," said Romney spokesman Ryan Williams.
Obama campaign spokeswoman Lis Smith shot back at the GOP camp: "Once again, Mitt Romney's campaign is showing their focus on the big things — like one letter in Tim Kaine's name. If they put as much time and effort into their policies, maybe we'd finally have an answer for how they'd pay for $5 trillion in tax cuts weighted to the very wealthy."
Watch the flub below, via C-SPAN:
[h/t TheBlaze]
— —
>> Follow Andrew Kirell (@AndrewKirell) on Twitter
Have a tip we should know? tips@mediaite.com