Joe Biden Tells Ed Schultz: Hilary Rosen's Comment Was 'An Outrageous Assertion'
Joe Biden: Hilary Rosen's Comment Was 'An Outrageous Assertion'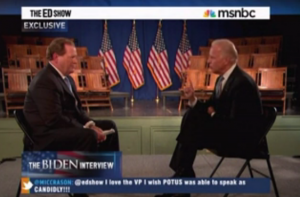 Vice President Joe Biden spoke to Ed Schultz Thursday night, touching on several topics — including the controversy du jour: Hilary Rosen. Biden called the comment "outrageous," saying his career has been dedicated to ensuring his daughter can make whatever decisions she wants without anyone questioning it.
Schultz asked Biden to respond to Rosen's comment about Ann Romney. Said Biden:
That's an outrageous assertion. Look, I have fought my whole career. I'm no hero. […] My entire career as a senator and as vice president is to get to one point. Where my daughter is able to make whatever choice she wants, and no one question it. My daughter happens to have her masters degree, she's a social worker. She's getting married. If my daughter wants to be able to say, I'm staying home and raising my kids, no one should question that.
Schultz said the Republicans are trying to say Democrats don't respect stay-at-home moms. "They don't know the Democrats that I know," Biden said. He went on:
When my wife was killed and I was raising two young boys myself, and then Jill and I got married — we've been married now 35 years — the boys were young. She's a professional, she has her doctorate, she has two masters, she's a teacher. She decided — she decided, not me — she said, Joe, I'm going to stay home to learn school. That's her decision. And that generation, starting with my wife, was able to make those decisions.
Just look at the record, Biden said, and see who has promoted women's rights and worked toward making sure women are treated equally.
Take a look, via MSNBC:

Have a tip we should know? tips@mediaite.com