Joe Biden Wanted to Blow the Horn So Badly to Kick Off Annual Wounded Warriors Ride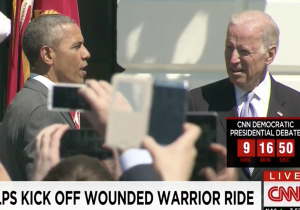 At the White House on Thursday morning, President Barack Obama kicked off the annual Wounded Warriors Project Soldier Ride with some opening remarks flanked by his fun-loving Vice President, Joe Biden. The annual event, now in its ninth year, is an opportunity for war veterans to take part in a cycling race around the White House grounds as a means of rehabilitating both mental and physical strength.
Each year that President Obama has introduced the event, he has done so with a sports air horn, but this year he decided to spread the wealth (maybe he will endorse Sanders after all), enlisting the help of nearly a dozen kids who all had the opportunity to blow the horn as well. One big kid who volunteered but was denied?
Vice President Biden.
As the President walked around, joking heartily with the gathered group of war vets and their families, he eyed kids who wanted to take part in the ceremonial opening. Biden can be seen raising his hand to volunteer, but only the President got the final say to kick off the event.
The CNN anchors during the broadcast — John Berman and Kate Bolduan — even joked minutes later, "Poor Joe Biden!" at the rejection.
Above we've included several minutes of the President's address at the start of the event. "It's a reminder that for those who are called to serve," the President noted somberly, "their mission doesn't end of the battle field. It's one you carry with you for the rest of your lives."
"Our Veterans will tell you themselves — they may have put away their uniforms, but they're not finished serving their country," the President continued. The search for young volunteers begins around the 6:00 minute mark, which you can watch above from CNN.
[image via screengrab]
—
J.D. Durkin (@jiveDurkey) is a columnist at Mediaite.
Have a tip we should know? tips@mediaite.com