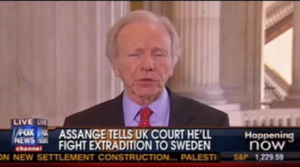 "What do you think of the Justice Department's action, so far, not to charge Julian Assange with treason?" That's the question Jenna Lee posed to Senator Joe Lieberman on Fox News today. And while Lieberman chose not to remind Lee that even SNL knows that Austrailian citizens aren't typically found guilty of American treason, he did say, "I think it's the most serious violation of the Espionage Act in our history." Lieberman also shamed the New York Times, which he accuses of "bad citizenship" and maybe even a crime or two.
The topic of the Times came up when Lee brought up Assange's editorial, in which he claims that WikiLeaks is merely an underdog in the world of journalism. Though Assange's assertion was meant to alleviate his group of criminal allegations, Fox News interpreted it conversely, asking the senator, "Are other media outlets that have posted what WikiLeaks has put out there also culpable in this, and could [they] be charged with something?"
Lieberman said that this was a "serious legal question that has to be answered," preferably by way of criminal investigation.
Then what about the news organizations, including the Times, that have accepted it and distributed it? … To me, New York Times has committed at least an act of bad citizenship. And whether they've committed a crime, I think that bears very intensive inquiry by the Justice Department.
Watch Lieberman and Fox News question whether the New York Times committed treason in the clip below.
Have a tip we should know? tips@mediaite.com