Friend Joe Oliver Told Zimmerman 'You Are Making Some Bad Decisions,' Roland Martin Reports
Friend Joe Oliver Told Zimmerman 'You Are Making Some Bad Decisions'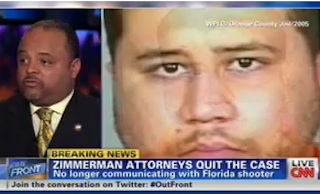 Appearing on CNN's OutFront with guest host Brooke Baldwin, Roland Martin revealed staunch George Zimmerman defender Joe Oliver, who went on an extensive media tour in his support, had not been in correspondence with him for two weeks.
"…Coming to the studio I called Joe Oliver, his friend who's been all over television, he hasn't talked to George in two weeks," Martin explained.
RELATED Lawrence O'Donnell And Charles Blow Give George Zimmerman Pal Joe Oliver Epic Grilling
"He said 'I feel like he is wrongly being advised' he also said, that 'he is making some bad decisions.' He said 'I am comfortable in saying that the authorities know where he's at if they need to get to him, he also talked about the flight risk because Ben Crump, the attorney for Trayvon Martin's family said the family is concerned. Joe said he doesn't have the funds to be a flight risk but he also went on to make it perfectly clear that 'I sent him a text today saying you are making bad decisions' and said it is not going to work in your favor and Joe said one of the reasons he hasn't been on television is because he doesn't want to rehash the same thing and also said I can't represent him as a friend, as a media advisor, if he won't talk to me. He's talked to his father a week ago, and hasn't talked to George Zimmerman in two weeks."
"So Joe Oliver sent George Zimmerman this text, did he get anything?" Baldwin asked Martin.
"Not gotten a response from him. He hasn't talked to him or returned a text in two weeks," Martin replied.
Read all of Martin's tweets about OIiver below: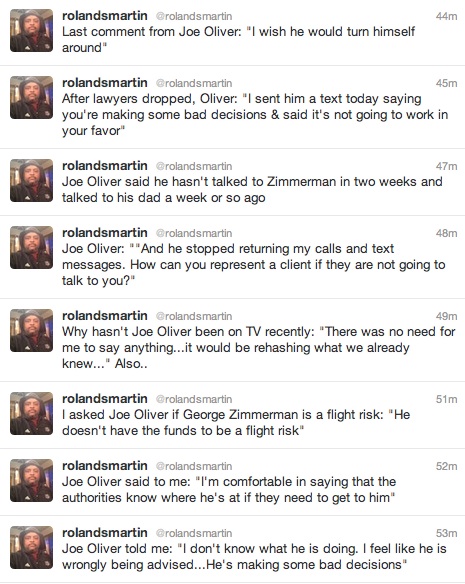 Watch Martin's revelation about Joe Oliver below via CNN:

Have a tip we should know? tips@mediaite.com