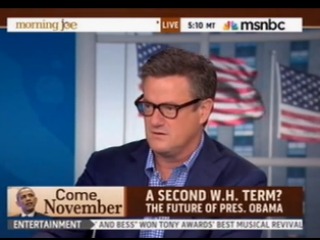 On Monday's Morning Joe, host Joe Scarborough and The New Yorker's David Remnick found themselves disagreeing over negative, partisan treatment of former presidents Bill Clinton and George W. Bush and current president Barack Obama.
"The White House does not realize now and the President does not realize right now that his mere re-election will not make the Republicans find him to be any more legitimate than Bill Clinton's re-election made him legitimate," said Scarborough. "And they're actually believing right now — I know this, and you probably know this — they actually believe 'if we win this second time, then they're going to look at us as a legitimate force.' I've been told that by people really high up in the White House. And it doesn't work that way."
"In the Republican party you do see these — or at least the right wing of the Republican party — a real denial of legitimacy," replied Remnick.
"I saw that," said Scarborough. "I don't want to get into this, but I saw that for George W. Bush from the left wing." He added that "Republicans treated Bill Clinton terribly for eight years," so "Democrats got back at George W. Bush by treating him terribly for eight years. Republicans will do the same towards Barack Obama."
"There's a difference, though," Remnick insisted. "The Republicans treated Bill Clinton terribly on an impeachment scandal about which we all know. The Democrats we're having at the Bush administration, for the most part, on policy."
"That is not true," said Nicolle Wallace, who has worked on campaigns for both John McCain and George W. Bush. "I mean, Barack Obama won and his first act as President was to announce to a meeting of congressional leaders, 'I won and I'm going to ram through the stimulus that I want.' He set the tone when it comes to governing by the way that he went about with his first and signature step to try to heal the economy."
"But it's not just that republicans didn't question his legitimacy," she added. "In fact, I worked for the losing candidate in '08, who had a lot to do with setting a tone of embracing the new President as entirely legitimate."
Wallace and Remnick then argued over how John McCain and G.W. Bush handled Obama's presidential win, with Wallace saying this time was marked by one of the most "graceful concessions in modern times." Remnick agreed on that point, adding that the problem does not lie within the Republican party as a whole.
Have a look, via MSNBC:
Have a tip we should know? tips@mediaite.com