Joe Scarborough Blasts 'Idiots' Who Call Him A 'RINO' For Saying Romney Will Lose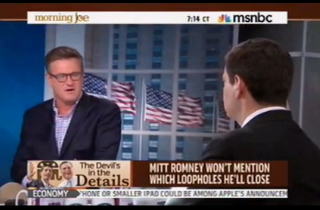 During Monday's edition of Morning Joe, host Joe Scarborough went on a rant in defense of his claims that Mitt Romney will lose this election for not running a more "conservative" campaign and promising "radical" change in Washington. In the process, he took shots at the "idiots" who have called him a "RINO" for suggesting this election will result in a second term for President Obama.
"Mitt Romney is in trouble," Scarborough reiterated this morning, adding that the campaign has "to start being aggressive and they have to start being specific and they have to start telling Americans where they're going to take this country. They're going to have to jolt people with facts."
Scarborough cited former British Prime Minister Margaret Thatcher's unlikely election in 1979, which he claimed resulted from her "being brash, bold, radical and getting in people's faces and saying, this empire is collapsing and the only way we change course and save it is by undertaking a radical course change."
"If she had been tepid like Mitt Romney is, she would have been crushed," he said before continuing on to cite Ronald Reagan's 1980 election as well: "He promised radical change in Washington, D.C.," he said. "A timid Ronald Reagan wouldn't have made history."
The conservative morning host then went on a rant against his right-wing critics who have decried his dire assessment of the Romney campaign:
The Romney people think that they can run a Bob Dole campaign, a John McCain campaign, a Gerald Ford campaign and win. That doesn't happen. Republicans do not win by running these type of campaigns. And for those idiots out there that are saying that I'm a RINO, I'm not a conservative because I'm actually telling them, we will lose if you don't start running as a conservative. If you don't start telling people what you believe — if you really do, in fact, believe in anything — but if you don't start telling people, yes, these are the tax exemptions we're going to take care of. Yes, this is how seniors — who are going to be turning 65 in 15 years — this is how they're going to be paying more, this is how we're going to have to trim benefits, this is how we're going to have to trim benefits on Social Security, these are the wars we can no longer fight, these are the weapon systems we can no longer afford. Unless you have somebody that's willing to do that, Romney's going to lose.
Watch below, via MSNBC:
— —
>> Follow Andrew Kirell (@AndrewKirell) on Twitter
Have a tip we should know? [email protected]