Joe Scarborough: Boehner Should Avoid Obama 'Cheap Shots' During 'Time Of Crisis'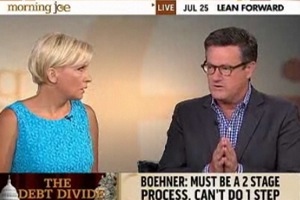 Joe Scarborough was starting to get really worried that a deal might not be reached between Republicans and Democrats before the August 2nd debt ceiling deadline. As Scarborough wondered whether everyone in Washington understood that the ongoing debate "is shaking the world's confidence" in America, most on the Morning Joe panel agreed that Speaker of the House John Boehner is not helping the situation with some of his comments on television yesterday.
On Fox News Sunday, Boehner said, "I know the President is worried about his next election," but we need to worry about the country. Scarborough was the most agitated by this statement:
"I don't think that's helpful. I really don't, again, do that at your own fundraiser after the deadline passes. . . . John Boehner does not need to go on national television during this time of crisis, and this is a time of crisis, and take cheap shots at the President like that."
Scarborough insisted, that he would say the same thing about Democrats taking a cheap shot, and explained why this is so significant now. "Maybe they don't understand, that the more this goes on, the more we strengthen China's standing in the globe," Scarborough argued.
NBC's Savannah Guthrie also took exception to Boehner's comment, suggesting "give me a break, everybody here is playing politics." And New York magazine's John Heilemann suggested Boehner was being "ridiculous" for thinking that postponing parts of the deal until next year was reasonable, since that will be in the heart of the 2012 political season.
Scarborough described the entire situation as shaping up to be a "political nightmare" for the President, yet doubted that politics is Obama's first priority:
"Does the President worry about that? Yes the President is worried about that. I think the President is a little more worried though about an economic meltdown, an economic armageddon. That happens if we don't take care of this."
However, with potential "armageddon" a little over a week away, it seems likely that even more "cheap shots" might start to fly.
Watch the clip from MSNBC below:

Have a tip we should know? [email protected]