Joe Scarborough Calls Gingrich 'Unsustainable,' Compares Him To Michael Moore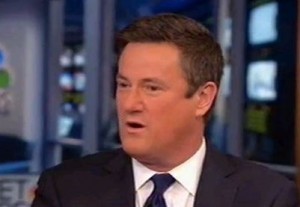 Last summer, when Newt Gingrich made several significant campaign missteps, the media wrote his candidacy off before it even began. In December, thanks to his strong debate performances, he surged to the top of the field, and some analysts thought he would be the likely nominee. A few weeks later, his campaign fizzled and the media went back to writing him off again. So now that Gingrich is back in the spotlight, the media is naturally… writing him off again.
RELATED: Joe Scarborough: Gingrich Is A 'Danger To America' Who Would Destroy The GOP
On Meet the Press today, Joe Scarborough argued that Gingrich's candidacy was not sustainable, and in the long run he would eventually fizzle again and lose to Mitt Romney. Scarborough has a well-documented disdain of Newt Gingrich and his ability to become the next president, so his criticisms are nothing new. But today he went so far as to compare the conservative Gingrich to one of the conservatives' favorite punching bags.
Katty Kay saw last night's Gingrich victory as good news for the Obama campaign, because of how vulnerable he is on a number of issues and how "the ads against [him] write themselves." However, she also noted that Gingrich's attacks on Romney seemed to be borne of the same anti-business sentiments fueling Occupy Wall Street. Scarborough jumped in, finding it unbelievable that "Gingrich is adopting the language of Michael Moore." He argued that Gingrich's line of attack did not make him a good conservative alternative to Romney.
Kay suggested that rather than focusing on Romney's flip-flops, Gingrich and his fellow candidates have been more focused on Romney's wealth. Scarborough had a slightly different take.
"They're not focusing on Mitt Romney's money, they're focusing on Mitt Romney's tongue. He can't answer a question that he knows is coming."
RELATED: Joe Scarborough Destroys Newt Gingrich's 'Conservative Principles'
Later on in the program, when the discussion turned to Rick Santorum, Scarborough brought up the evangelical support Santorum has, and the efforts of many evangelicals to make a stronger line of attack against Gingrich.
"The bottom line is, I'm sorry, Newt is not sustainable. Nobody that's known him since '95 thinks he's sustainable, last night was not about Newt, it was a primal scream by some South Carolina voters against the Republican establishment."
Watch both segments below, courtesy of NBC:
Have a tip we should know? tips@mediaite.com
Josh Feldman - Senior Editor