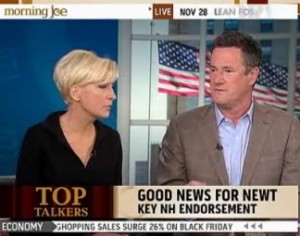 The news that Newt Gingrich has secured the endorsement of New Hampshire's Manchester Union Leader seems to have prompted something of a feeding frenzy over at Morning Joe, which spent a large portion of this morning's episode alternately chomping on the candidacies of endorsee Newt Gingrich and snub-ee Mitt Romney. While tough to narrow down, host Joe Scarborough's litany of Gingrich's "conservative principles" probably cut deepest.
The Union Leader endorsement is the big political news of the day, and not just because it comes after a dead holiday weekend. The conservative paper's stamp of approval is being portrayed as a game-changer for Gingrich, much as it seems to have been for John McCain during the 2008 race for the GOP nod.
As game-changers go, though, the endorsement itself was some weak, tepid tea, citing Gingrich accomplishments that have the nostalgia quotient of a Roxette concert, and noted that while Gingrich is "by no means the perfect candidate," he is "worthy of your support on January 10."
Co-hosts Mika Brzezinski and Joe Scarborough basically took turns basting Mitt Romney and Newt Gingrich in their own juices all morning, but it was Scarborough who effectively composed the Romney campaign's next attack ad for them by rattling off a litany of Gingrich heresy.
"The Manchester Union Leader must have gone on and said that the principle, the conservative principle he stood on was calling Paul Ryan's budget plan radical right-wing social engineering," Scarborough began, but he wasn't done by a damn sight.
Scarborough went on to list Gingrich's support for the unfunded $7 trillion Medicare D program, "amnesty for illegals," and mandatory health insurance (with an assist from Mark Halperin). He ticked off Gingrich's ties to Freddie Mac, his anti-global warming commercial with Nancy Pelosi, and finished with a two-fer, saying that Gingrich "flip-flops more than Mitt Romney. Newt Gingrich and Mitt Romney should have a contest. I'm so dizzy."
There are probably a lot of conservatives who will dismiss Scarborough as a RINO, as they often do when they want to protect whatever delusion they're nursing, but they're not really the key audience for this, anyway. Joe Scarborough wields considerable influence in Washington, DC, both with the media and within the political bubble. He may be telling conservatives things that they don't want to hear, but you can bet the other candidates are listening, and taking notes.
Here's the clip, from MSNBC's Morning Joe:
Have a tip we should know? tips@mediaite.com