Joe Scarborough Digs Into Lack Of Post-Newtown Response From Elected GOPers: 'Where Do You Stand?'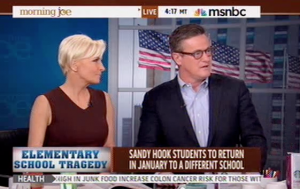 On Wednesday morning's show, Joe Scarborough tackled the issue of NRA influence. Arguing that many conservatives could get away with diverging with the NRA on certain issues, Scarborough questioned why elected Republicans have been reluctant to detail where they stand on gun and mental health issues following the shooting in Newtown, Conn.
Willie Geist noted that "in the immediate aftermath" of the shooting, many people said nothing should change because of the NRA's political power. Asked about the "political costs of crossing the NRA," Scarborough said it varies.
"I think they're very powerful," he said. But "it depends." Scarborough went on to speak about his experience and simply going to people, ahead of making a disagreeable decision, and asking: Are we friends, or are you my political enemy?
In a similar fashion, he said, there are many conservatives who could go to the NRA and say they can no longer share the same view on certain weapons — and they would get a pass from the organization. Geist suggested that perhaps those conversation are happening privately, but publicly, we've heard only from the likes of Sen. Joe Manchin.
Scarborough bid "good luck" to those who trying to characterize Manchin as a traitor. Manchin is an American hero, he said, and that message won't win over West Virginians.
"I'm still waiting to hear a Republican that's elected to step out and say something like Joe Manchin said," Scarborough added. "I haven't heard it yet. I haven't heard anything from the Republican Party, and you just wonder this long after a mass killing like that — little six- and seven-year-olds — that there's not a single Republican in America in elected office that's not going to step up and say something?"
It's time to talk, he said. "Where do you stand on gun safety? Where do you stand on our culture of violence? Where do you stand on mental health? Where do you stand? I want to hear it."
Watch below, via MSNBC:

Have a tip we should know? tips@mediaite.com