Joe Scarborough Falsely Identifies Cory Booker Twitter Friend Lynsie Lee as 'Vegan Stripper'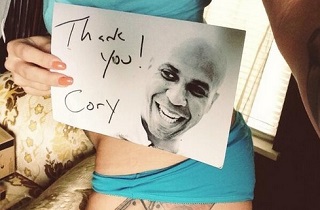 Thursday morning's Morning Joe got an early start on Wednesday's late-breaking news that Twitter addict and Newark Mayor Cory Booker (D-NJ) sent scandalously innocuous private Twitter messages to hilarious stripper Lynsie Lee, but host Joe Scarborough got a key fact wrong. The crew treated the news with that thread-the-needle mix of self-fanning puritanism and adolescent smirk that we've come to expect of an American media whose discomfort level with sexuality is matched only by its fascination with it.
Buzzfeed broke the news, Wednesday, that Mayor Cory Booker and stripper Lynsie Lee, who already had publicly conversed on Twitter, shared Direct Messages earlier this year. Booker and Lee appeared in the Twitter movie Follow Friday: The Film, and the famously Twitter-happy mayor struck up a friendship with Lee. Long story short, in March, Lee joked that she'd love to be Booker's First Lady some day, and another female Booker fan "warned her off," claiming to "DM on the reg" with Hizzoner, at which point Lee produced a screenshot of this exchange:
Booker: And the East Coast loves you and by the East Coast, I mean me.

Lee: Well now I'm blushing :)

Booker: Its only fair
Booker was replying to a tweet in which Lee said that the West Coast loves Mayor Booker.
The online media jumped all over the story, followed closely by print outlets like The New York Times, which pursued Lee with the fervor of a coked-up barfly at a Disco club. Lynsie Lee, whose Twitter bio promises "wits and tits," displayed generous helpings of the former in reacting to her sudden fame, but criticized the Times for running a story without contacting her, even after she followed their instructions:
Nobody even asked me questions from NYT… http://nyti.ms/1foNPa3

@mikiebarb I am following and never received a call. Oh well I suppose.

NYT contacted me. Should have a corrected piece soonish?
Eventually, the piece was updated, without notation. Throughout the evening, Lee provided an at-times hilarious running commentary on the coverage, including some media-centric references to sex toys:
my favorite part is that Buzzfeed is what I named my vibrator

do I need to hire a publicist to tell me when to post nudes now? these 5 min of fame are gonna be tough for my daddy issues.

maybe one day I'll be a Jeopardy category now

uh a reporter just called and left a voicemail. wtf.

The Daily Beast just called. guess that's what I'll name my butt plug.
She also thanked Mayor Booker in true social media style, tweeting this photo along with a plea for donations to his Senate campaign: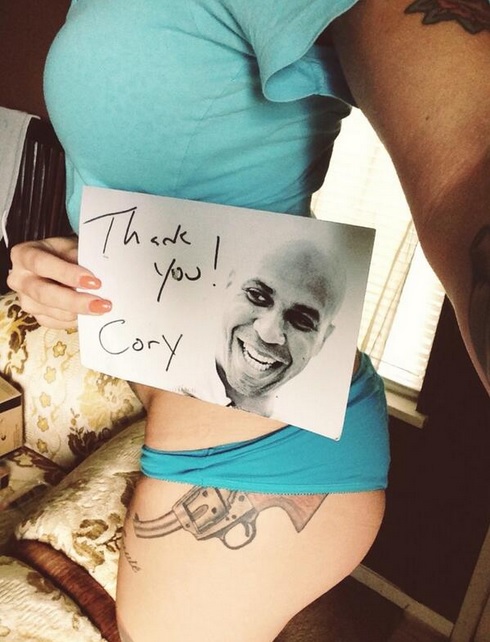 Don't forget to go donate to @CoryBooker's campaign for senate ;) https://secure.corybooker.com/?sc=top-nav pic.twitter.com/i25sFo1Gux
Lee also defiantly resisted any efforts at shaming, while anticipating the frenzy to come:
two weeks time is when i release a sex tape right?

I'm ready for my reality show "keeping up with a slut"

Cory responded in the most gentlemanly of ways. You should see the other celebrity creeper DMs I've received hahahaha

I love the instant notoriety but really a single man flirting with a beautiful woman isn't much news. We both have legal jobs.

Although, if all of this prevents me from being Cory's First Lady when he's POTUS I will seek revenge ;)

I better get so many customers at work tomorrow hahahah ;)

I don't want 15min of fame, not this way. I want it through my nudes duh ;)
One of the details that the media has been focusing on is that Lee works at Casa Diablo, a club billing itself as the world's first vegan strip club (or as Lee puts it, "we keep the meat on the pole, not on the plate"), but on Morning Joe this morning, host Joe Scarborough made the common mistake of identifying Lynsie Lee as a "vegan stripper." As she clarified on her Twitter feed yesterday, "I'm not even vegan. My stripclub is."
Additionally, co-host Mika Brzezinski acted like saying the word "stripper" was akin to picking something icky out of her shower drain, and Steve Rattner refused to say the word "tits" on TV, while smirkingly referencing them. It was all very classy and mature. Here's the clip, from MSNBC's Morning Joe:
[photo via Twitpic]
Have a tip we should know? tips@mediaite.com