Joe Scarborough Goes Off On Mika Brzezinski After She Asserts He's 'Being Chauvinistic'
Scarborough Goes Off On Mika After She Asserts He's 'Being Chauvinistic'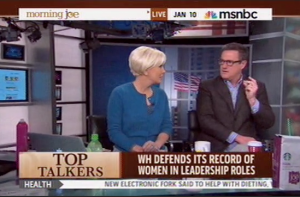 The Morning Joe family got heated and a bit awkward this morning during a discussion about the lack of diversity in President Obama's inner circle. As Joe Scarborough pointed to the lack of outrage and the Republican/Democrat double standard, Mika Brzezinski vehemently disagreed — and told him he was being "chauvinistic." Scarborough… didn't take it well. At one point literally snapping his fingers at his co-host.
The issue of diversity took up the entire segment, but started to grow contentious when the BBC's Katty Kay sought to downplay the lack of diversity in Obama's cabinet while noting that Mitt Romney's "binders full of women" comment resonated because it reinforced the "1950s" attitude some perceived him having toward women.
"This is what's wrong with political reporting," Scarborough charged. The left took a "faux pas" and blew it up — but in Obama's case, they're talking about "something that matters." Actual cabinet positions. That led to some back-and-forth between the two, who plainly disagreed.
As the segment went on, Brzezinski noted that Susan Rice could have been another woman in Obama's cabinet had Republicans not "routed" her out. "Talk about old guys being completely chauvinistic jerks," she remarked, as Scarborough noted David Axelrod's assertion that Rice hadn't been considered for the Secretary of State position. Brzezinski countered that the president's policies speak to his commitment to women's issues.
Still, the show went on… until Scarborough's joking around proved to be too much for Brzezinski who told him, "You're being chauvinistic right now." She can make personal attacks, Scarborough retorted, but "you've got a president you worship on this show every day." Yet she "savaged" Romney. Had the president been Republican, she'd have been upset about the issue, he argued.
"You really — knowing me and seeing me work around here for five years — you want to call me a chauvinist on television?" Scarborough asked, with Brzezinski replying that she wasn't calling him that.
"I said the way you're acting is chauvinistic," she responded, "especially the way you were handling this conversation. It's not funny."
"Do I act like a chauvinist in Congress, the way I ran my office there, the way run my office here? I am a chauvinist?" Scarborough repeatedly pressed, as they argued and talked over each other. "Read your own book!"
"You can't throw around attacks like that," he said, "because you're embarrassed about what Barack Obama's doing."
(Update: Later in the show, Brzezinski apologized to Scarborough, saying his "entire career" backs up the fact that he is not, indeed, a chauvinist. She reiterated her point that she disliked how Scarborough handled the segment.)
Videos of both the segment and the apology are below.
Take a look, via MSNBC:

Apology:

Have a tip we should know? tips@mediaite.com