Scarborough Goes Off On 'Sheer Ignorance' Of Gun Lobby Who Believe 'Constitutional Right' To 'Assault Weapons'
Scarborough Rips 'Ignorance' Of Those Who Believe In 'Right' To 'Assault Weapons'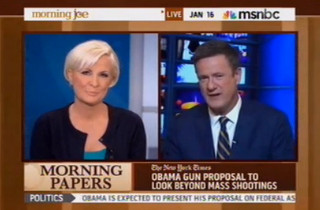 On Wednesday morning, MSNBC's Morning Joe host Joe Scarborough continued his streak of attacking the National Rifle Association, the gun lobby, and the people who interpret the Second Amendment to mean unfettered access to firearms.
After co-host Mika Brzezinski congratulated Scarborough on successfully calling attention to the new NRA iPhone app "Practice Range" and forcing the makers to designate the game for ages 12 and up, the conservative host went off on the lobby he finds "extreme."
"There was pushback from people that were saying that this app was not affiliated with the NRA," Scarborough began, "and these were some of the same people that were trying to explain why they need assault weapons to protect their constitutional rights. Their arguments are absolutely unbalanced. They really are. You look at the argument that assault weapons are protected — we hear this all the time — by the Second Amendment. We hear that these high-capacity magazines are protected by the Second Amendment. They're not. It's right there in [District of Columbia v.] Heller, [Justice Antonin] Scalia wrote it."
He continued on to accuse the NRA and the gun lobby of "programming" gun enthusiasts into thinking, "This is your constitution-protected right. James Madison gave you this right when he helped draft the Bill of Rights." But, in Scarborough's mind, those beliefs amount to "sheer ignorance of basic constitutional law. It's ignorance of what Justice Scalia said."
Scarborough then set his sights on the makers of the app, which features the ability to shoot at coffin-shaped targets with so-called "assault rifles." Despite the creators changing the game's age limit, Scarborough said, "Forget about whether 4-year-olds can play it or 8-year-olds can play it or 12-year-olds can play it. The question is: What organization puts out an app like that that any children can play one month after the most just indescribably horrific slaughter of 6 and 7-year-olds? Is that really how they mark the anniversary? Has this organization become so out of touch, so insulated, so extreme, so arrogant that they think middle Americans are going to put up with that?"
After his colleagues joined in and added their thoughts on the "disrespectful" nature of the gun lobby's behavior, Scarborough then added that Hollywood is "completely blind to their responsibility" for the so-called "culture of violence." Panelist Donny Deutsch took issue with this, arguing that Scarborough was leading down a "slippery slope" by pointing a finger at freedom of speech.
"Your argument about the, quote, slippery slope, couldn't have been said better by [NRA President] Wayne LaPierre himself," the host said. "That is such a feeble excuse."
"Please don't compare me to that nut job," Deutsch fired back. "Come on, Joe."
Watch below, via MSNBC:
— —
>> Follow Andrew Kirell (@AndrewKirell) on Twitter
Have a tip we should know? [email protected]