Joe Scarborough: GOP Frontrunners 'Have About As Much Longevity As The Number Three In Al-Qaeda'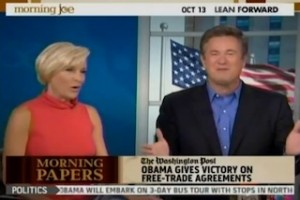 Have you noticed that there seems to be a revolving door at the top of the GOP presidential polls? First it was Michele Bachmann, replaced shortly by Rick Perry, only to be supplanted by Herman Cain and/or Mitt Romney (depending on the poll you are reading.) You know who else has noticed this? Morning Joe co-host Joe Scarborough who repeated his "flavor of the month" mantra in an entertaining exhibition of "I told you so" style commentary. Comparing the longevity of GOP frontrunner's to the "number three of al Qaeda" is a certain way to get notice on the media blogs, and so…here we are.
RELATED: Romney Leads Cain! Cain Leads Romney! Confusion Reigns Supreme In Polls
Of course, Scarborough is right on this point, and if you have any questions, just ask Joe Scarborough! It does seem that none of the GOP frontrunners have real staying power, save perhaps Romney, who is beginning to feel more and more like the presumptive nominee. But it wasn't enough for Scarborough to take a victory lap on his prescient predictions on the future of many conservative personalities (like Sarah Palin and Glenn Beck among others.) Scarborough also likened his own sagacious analysis to that of Obi-Wan Kenobi. While The Blaze mocked his metaphor with a screaming headline that read "Media Analogy Insanity!," he was clearly on something of a comedic jag. And to his credit, it was very entertaining.
See for yourself by watching the following video clip edited together by our friends at The Blaze:
Have a tip we should know? tips@mediaite.com