Joe Scarborough: Frustrated Republicans Who Would 'Vote For Their Dog Over Obama' Haven't Warmed To Current Field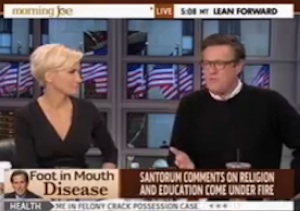 On Tuesday's edition of Morning Joe, Joe Scarborough was flabbergasted over the choices in the GOP field, in particular Rick Santorum.
"He's not just offending left-wingers in Manhattan and Georgetown, he's offending conservative right-wing women that have never voted for Democrats in their life!" Scarborough exclaimed. "And I'm dead serious! And it ain't just my wife and her friends. I'm hearing this from across America, women who have never voted for a Democrat in their life saying — what is wrong with Rick Santorum? And they all — everywhere I go — my friends that I've accumulated over 30, 40 years, every time I talk to them, they go, 'Joe, what's up with our party? What's wrong with our party?!' These are people that would vote for their dog over Barack Obama and yet, they're having trouble seeing clear to vote for Santorum, Romney, Gingrich — appalled!"
"The dog probably is more moderate on social issues than Rick Santorum," The Washington Post's Eugene Robinson snarked.
RELATED: MSNBC Guest: My Dog Is Better At Handling The Economy Than Obama
"The dog would win!" Scarborough quipped.
"He has this thing about religion in the public square, he has this thing about women and reproduction and apparently he has a thing about college. Which is just, just crazy!" Robinson added. "So now you're not only offending women, who are a majority of voters, you're also offending blue-collar voters who want their children to go to college — who don't think it's snobbish to want their children to go to college!"
Watch below via MSNBC:

Have a tip we should know? tips@mediaite.com