Joe Scarborough Incensed Over Rep. Allen West Comment On 'Communist' American Legislators: 'Meet My Wrath'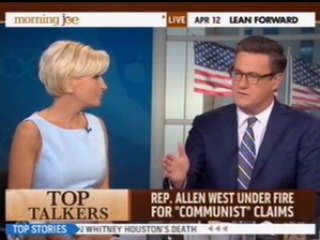 On Thursday, the Morning Joe gang took a look at recent comments made by Rep. Allen West concerning the Democratic party. According to a local report, West told an audience in Florida he'd "heard" that "up to 80" House Democrats are members of the Communist Party. West's campaign manager, Tim Edson, came forward saying that West's statements had been misrepresented by a "stupid reporter" at a local publication who "misquoted the entire thing."
RELATED: Rep. Allen West: I've 'Heard' Up To 80 House Democrats Are Communist Party Members
The Morning Joe panel joked that "Vice President Allen West" had said that "78 to 81 percent" members of Congress are Communists, prompting host Joe Scarborough to ask which members, exactly, where within that three percent who were "on the fence."
"He's connecting American legislators," Scarborough continued, turning serious, "to a movement that was responsible for upward to a hundred million deaths in the 20th century between Joseph Stalin, Mao Tse-tung and Pol Pot. It is without a doubt — between executions, forced starvation, show trials, Gulags — from, still today, from China to Cuba, still the most repressive, the most evil political movement in the history of man, responsible for more deaths than any other movement. And Allen West is comparing American legislators to that movement, saying they're part of that movement."
Is it up to someone within the Republican party, he wondered aloud, to stand up and publicly denounce West's comments?
RELATED: Allen West Campaign Manager: 'Stupid Reporter' Misquoted 'Communist' Remark
Scarborough gave an example statement:
As the future leader of the Republican party, I am shocked and stunned and deeply saddened by this behavior. It is incorrigible and any Republican party — local, state or national — that contributes to Allen West's reelection campaign before he apologizes for this statement will meet my wrath in the future.
"I'm having fun," he added. "I wore a coat and tie, so I decided to play grownup for a day."
Watch his wrath unfold, via MSNBC:
Have a tip we should know? tips@mediaite.com