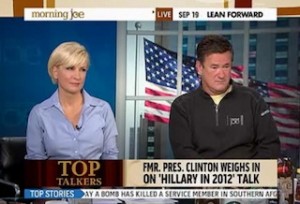 In the weird game of media messaging and political news narratives, sometimes asking a an untoward question of a candidate's political viability is just as damaging as the response. Such was the case this morning when Joe Scarborough raised the notion of President Obama stepping down after one term in office if his approval numbers continue to stay so low. While Mark Halperin quickly dismissed the notion, the fact that it was even being discussed on MSNBC's Morning Joe is not a positive sign for the White House reelection efforts.
The conversation was pegged to former President Bill Clinton's appearance yesterday on CBS Face The Nation in which he was asked about a comment made by former VP Dick Cheney regarding Hillary Clinton's political viability in challenging Obama in the Democratic primary. Clinton dismissed Cheney's comment in the most laudatory and respectful way, which earned praise from the Morning Joe crew.
Halperin pointed out that Obama is a very competitive individual whose presidency is an incredibly historical one. Scarborough suggested that no one in the White House seems to be excited about the re-election campaign with what appears to be flailing messaging efforts. And while it seems incredibly unlikely that Obama would step down and not run for a second term, the fact that they typically reasonable Scarborough would even suggest such a scenario is an indication of how deep the public perception hole reelection efforts now find themselves trying to dig out from under.
Watch the clip below courtesy of MSNBC:
Have a tip we should know? tips@mediaite.com