Joe Scarborough Jumps All Over President Obama For Joking With His Daughter At Swearing-In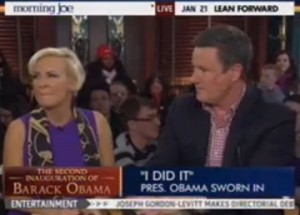 On this joyous President Barack Obama Day, Morning Joe host Joe Scarborough badly misinterpreted a sweet moment during the President's second swearing-in, and took exception to his declaration of "I did it!" to daughter Sasha Obama, moments after taking the oath. "You know what?" Scarborough said, "It was jarring to me. It was jarring to me because it's not about I. It's about we."
Of course, the President and his daughters were obviously joking about his last swearing-in, at which Chief Justice John Roberts administered the wrong oath, and, in a lesser-known gaffe, was re-administered the oath without a Bible. There was no third try.
Seconds after being sworn in, President Obama hugged First Lady Michelle Obama (who said "Congratulations," to which he replied, "Thank you, Sweetie."), ten as he hugged the First Daughters, Sasha said "Good job, Daddy."
"I did it," the First Dad replied.
"You didn't mess it up!" Sasha said.
The obvious subtext there was that Sasha had needled him about the flub prior to the swearing-in, and completed the good-natured ribbing following it. To the ears of a conservative, bathed in the "NOBAMA The Usurper" narrative of the most deranged quarters of his political side, it certainly must have carried a Pavlovian kick, and as the Morning Joe panel began to explain the joke to Scarborough, there was a great opportunity for self-reflection and growth. Such a moment might well have elicited a similar reaction from a liberal had the subject been President Mitt Romney*, and not President Obama. There's just a natural suspicion, at whatever your opponent says, that's not always particularly healthy.
As Eugene Robinson tried to point out, maybe "at some point we'll get back to the point where everybody gets the benefit of the doubt, and it's not jarring when you hear that from any politician."
The best part of this clip, though, is that after establishing that the President was joking with his daughter, and not seizing America for his own selfish purposes, Meet The Press host David Gregory finished up by explaining that, even though Scarborough was wrong, he still had a point. That's the mainstream press in a nutshell: there are always two sides, and it's always a tie.
Here's the clip, from Morning Joe:
(VIDEO)

*Mitt Romney was the Republican nominee for president in 2012.
Have a tip we should know? tips@mediaite.com