Scarborough Lashes Out at Michael Steele: 'Don't Lecture Me' About Conservatism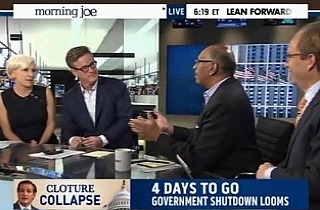 A tense exchange broke out on Thursday morning between Morning Joe's Joe Scarborough and former Republican National Committee Chairman Michael Steele over the tactics used by Sen. Ted Cruz (R-TX) with the aim of defunding the Affordable Care Act. Scarborough bristled over Steele's suggestion that Cruz was marshaling support among small government conservatives, and said that he resents being lectured to by Cruz and Steele about the conservative movement.

"Let me ask, do these people think that Tom Coburn is a RINO?" Scarborough asked about the conservatives inspired by Cruz's filibuster-like performance in the U.S. Senate this week. "Do they think George Will is a RINO? Do they think Ron Johnson is a RINO? Do they think Scott Walker, who disagrees with this strategy, is a RINO?"
"Who are these people?" Mika Brzezinski asked.
"If Charles Krauthammer's not a true Republican, and if Paul Ryan's not a true Republican, and if Tom Coburn's not a true Republican, and if Scott Walker's not a true Republican, I've got bad news for them: they're in the wrong party," Scarborough insisted. "They're actual the ones who are not Republicans."
Steele agreed, but attempted to make the point that the small government movement is responding to Cruz's tactics. "Speak slowly for me," Scarborough interrupted dismissively.
"I'm not trying to talk down to you," Steele clarified.
"You're not trying to. You just are," Scarborough replied.
"What's motivating people goes back to big government republican spending in the Bush-era," Steele began.
"I don't know anything about that," Scarborough interrupted. "Don't lecture me about what I know."
"He's trying to coalesce around – get people coalesced around a certain idea," Steele continued.
Brzezinski and Scarborough asked what that idea might be. "Why do we have to talk about spending more money before we deal with the root causes of the problem?" Steele added in an effort to summarize Cruz's platform.
"Don't lecture me," Scarborough insisted. "I've been talking about this for 12 years."
"I criticized George W. Bush well before you and well before 99 percent of conservatives criticized George W. Bush," Scarborough declared. "I criticized George W. Bush while Ted Cruz was working for George W. Bush."
Watch the exchange below via MSNBC:
[
Photo via screen grab
]
— —
> >Follow Noah Rothman (@NoahCRothman) on Twitter
Have a tip we should know? [email protected]