Joe Scarborough: Let's Stop And Thank Both George Bush And Barack Obama Today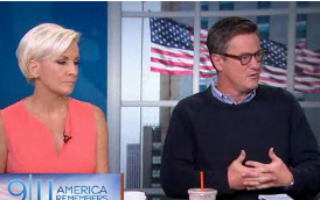 On the 11th anniversary of the 9/11 attacks, the Morning Joe panel took some time to remember and share where they were 11 years ago today. Host Joe Scarborough also took the opportunity to thank both President George W. Bush and President Barack Obama for their leadership and their efforts in keeping Americans safe, and hoped that others would put politics aside and remember to thank all those tasked with keeping us secure:
Of course, we're in the middle of a campaign so you can't say this, you just can't say this because there are too many haters out there that will hate hearing you say anything nice about either side. But here we are. Let's just be positive for a second here. You know, I remember seeing and taking polls right after 9/11, how many of you believe that you or your family members are going to die in a terrorist attack? And the numbers were just extraordinarily elevated. Everybody knew another attack was coming. Is it okay — I'm just curious — is it okay for us to stop for a second and say, even if we disagreed with some of George Bush's policies and even if we disagreed with some of Barack Obama's policies in this area, which we do, and we've criticized both, is it okay to say, thank you, Mr. President, thank you, President Bush, thank you, President Obama? Because while it was ugly and while we still disagree with a lot that this President's done and the last president's done, we haven't had another attack. And that is pretty damn remarkable, remarkable work by the President, by the CIA, by the FBI, by new york city police, by our entire nation's security apparatus. It's so easy for us to attack them. But can we just stop today and thank President Bush and thank President Obama, thank our men and women in the CIA, the FBI, and everybody that's kept us safe for 11 years?
Have a look, courtesy of MSNBC:
Have a tip we should know? [email protected]