Joe Scarborough 'Makes Mistake' Of Watching MSNBC Prime Time And His 'Head Almost Blew Off'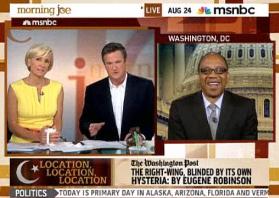 Joe Scarborough took a shot at his own network's prime time this morning in a conversation with Eugene Robinson on Morning Joe.
In disagreeing with Robinson's claim that Pres. Barack Obama is being attacked exceptionally more by his detractors than past presidents, he said he turned on MSNBC prime time last night and "my head almost blew off."
Robinson was discussing his recent Washington Post column, "The right-wing, blinded by its own hysteria." He said of some Republicans like Sarah Palin and Newt Gingrich, "They've treated this as a way to kind of say to the American people, 'you're being victimized by this President, by the Democrats, by the Muslims. You're the victim, and you're under attack. You should be resentful and afraid.'"
And that's when Joe Scarborough cut in:
Gene how is that any different, because I made the mistake of turning on this network in prime time last night and my head almost blew off, how is that any different from what Democrats did to George W. Bush from day one, from what Republicans, I will say this, did to Bill Clinton in 1992. I can read you the columns that were written before George Bush was sworn in by Washington Post columnists that you work with, talking about how George W. Bush has no legitimacy.
Just to be clear, if he was watching MSNBC prime time last night, his head was almost blown off by Lawrence O'Donnell, in for Keith Olbermann, or Rachel Maddow.
This wouldn't be the first time Scarborough has called out his colleagues in prime time, although not by name. Even so, that led to a clamping down by MSNBC management on inter-network squabbling.
We'll see what, if anything, comes from this.
Here's the key exchange:


—–
» Follow Steve Krakauer on Twitter
Have a tip we should know? tips@mediaite.com