Joe Scarborough: Mika and I Personally Speak With Trump 'a Few Times a Week'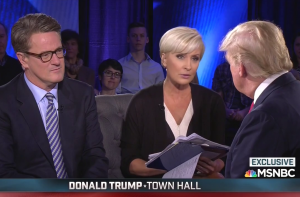 In a Politico piece detailing the on-again, off-again relationship between President-elect Donald Trump and the hosts of MSNBC's Morning Joe, Joe Scarborough revealed that he and co-host Mika Brzezinski speak to Trump on a personal basis a few times a week now.
This revelation comes after CNN's Chris Cuomo called out the pair on Twitter last month, accusing them of being "boosters" and "transition spokesmen" for Trump. It also shows that the Trump relationship has come full circle for Joe and Mika, who were accused of being overly friendly with him during the GOP primary — he even called them supporters in February — but were then regularly attacked by Trump through the general election for being unfair to him.
But, while Trump hasn't appeared on the program in months — he used to a be a regular guest — the MJ duo now appear to be part of Trump's trusted media sources and gain access few in the press enjoy.
Indeed, most viewers seemed to agree, knowing the cohosts' direct pipeline to Trump Tower. Scarborough, in an interview, declared that he and Brzezinski talk several times a week with Trump himself. And last week, Brzezinski traveled to Trump Tower and visited Ivanka Trump for coffee.

"We talk to Trump a few times a week and say the same thing to him on the phone that we say publicly on the show," Scarborough said. "We're just as blunt in person as we are on TV, whether we happened to be critical on the show that particular day or not."
So, what changed the relationship, which was on the rocks over the summer? It looks like Scarborough's son getting into a serious accident led to the reconnection.
"He just said when something like this happens nothing else matters, it's all about the kids," Scarborough recalled. "We had a nice personal conversation on the phone and he just said none of this [politics] matters. That was the first time we spoke in a long time and that probably made it easier for us to start talking later on."
After that occurred, many within Trump's campaign stayed in contact with the show, providing information and insight. And now Trump supporters know that Morning Joe is one of their must-watches because they are one of the few with direct access to the incoming POTUS's office.
For his part, while there has been much criticism over him providing advice to Trump and maintaining a personal relationship with the President-elect, Scarborough dismisses any overlying issues. He states that he did the same thing with the Obama administration and feels the reason Trump trusts them now is because they continued to say he had a chance to win against Hillary Clinton at the end.
[image via screengrab]
–
Follow Justin Baragona on Twitter: @justinbaragona
Have a tip we should know? tips@mediaite.com