Joe Scarborough Mocks Hillary For Abandoning Iowa to Fundraise at Investment Bank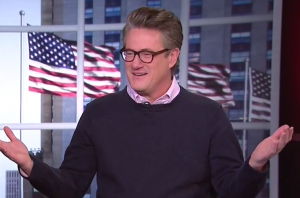 MSNBC's Morning Joe host Joe Scarborough mocked Democratic presidential candidate Hillary Clinton after she decided to leave Iowa four days before the caucus to fundraise at a wealthy investment bank.
Correspondent Kasie Hunt played a video of Bernie Sanders attacking Clinton on the move during a live report. "So let me get this straight, Hillary Clinton had a fundraiser at a bank in Philadelphia yesterday?" asked an incredulous Scarborough.
"You heard the man," Hunt replied smiling.
"Wow. That's interesting timing," he responded. "Did she give a speech? I'm just curious. If you can pick up a quarter million dollars in an afternoon, that must be nice."
"Four days before Iowa where one of the top issues has to do with income disparity and banks, and Hillary says… 'I've been fighting them for 30 years. Maybe they give me a quarter million dollars for speaking for 15 minutes, but I've been fighting them my whole life,'" he continued.
"She certainly handed Bernie that line on a silver platter," co-host Willie Geist agreed. "The group is called Franklin Square Capital." ("You can't make this up!" Scarborough laughed.)
"Here's the mitigating factor; it featured a concert by Bon Jovi," Geist said. "And it's telling, she canceled two fundraisers tonight in New York City."
"She was going to be in New York tonight raising money three days before Iowa?" piled on host Mika Bzrezinski.
"Wow, she must be very confident that the people of Iowa don't care whether she's there or with bankers raising money on the East Coast," Scarborough snarked. "Well, and Bon Jovi, too… must be a really, really wealthy investment bank to afford Bon Jovi."
Watch above, via MSNBC.
[Image via screengrab]
——
>>Follow Alex Griswold (@HashtagGriswold) on Twitter
Have a tip we should know? tips@mediaite.com