Joe Scarborough: Newt Gingrich's History Of Attacking Ronald Reagan Shows He Is 'Ideologically Unmoored'
Scarborough Takes On Gingrich's History Of Attacking Ronald Reagan...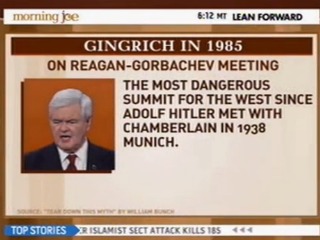 The folks at Morning Joe took a trip down memory lane Thursday, looking back at Newt Gingrich's views on Ronald Reagan — particularly how they haven't always been as rosy and laudatory as Gingrich characterizes them today.
As The National Review reports, back in 1985, as Reagan prepared to meet with then-Soviet leader Mikhail Gorbachev, Gingrich characterized their upcoming meeting as "the most dangerous summit for the West since Adolf Hitler met with Chamberlain in 1938 Munich." Additionally, the Congressional record shows that, on March 21, 1986, Gingrich said that President Reagan "personally knows there is a Soviet empire, and it is a global transnational threat to America and to freedom… He ranks with Presidents Truman, Eisenhower, Kennedy and Nixon in trying to focus attention on the Soviet empire and in trying to protect freedom. Yet President Reagan is clearly failing." And, on November 3, 1983, the record shows Gingrich opining that "beyond the obvious social indicators of decay, the fact is that President Reagan has lost control of the national agenda."
RELATED: Gingrich Namedrops 'Ronald Reagan' More Times In Debates Than Everyone Else Combined
Host Joe Scarborough added his two cents:
The man who we conservatives believe was more responsible than anybody else in liberating Eastern Europe was constantly being attacked by Newt Gingrich, who actually called Reagan's policies toward the Soviet Union "pathetic" and said that his foreign policy was an "abysmal failure." I think all this really tells us about Newt Gingrich is what most people already know, and that is that he is just ideologically unmoored. He will say whatever he thinks will gain him an advantage that day and when the tide turns, he, too, will turn with that tide.
Have a look, via MSNBC:
Have a tip we should know? tips@mediaite.com