Joe Scarborough: 'N*ggerhead' Story 'Disqualifying' To Rick Perry (While Mika Defends)
Joe Scarborough: 'N*ggerhead' Story 'Disqualifying' To Perry (While Mika Defends)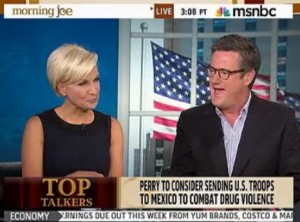 In an odd role reversal, Morning Joe host Joe Scarborough strongly denounced Texas Gov. Rick Perry, this morning, over a Washington Post report about a hunting camp that once (and colloquially, still does) bore the offensive name "N*ggerhead," while liberal co-host Mika Brzezinski defended Perry and mocked the news value of the story. Scarborough called the incident "disqualifying," while Brzezinski's faint defense involved asking whether Perry isn't "running around screaming (the n-word) wildly at people?"

According to that WaPo report, Perry's father, and later, Perry himself, leased a hunting camp, whose entrance was marked with a large rock bearing the name "Niggerhead," beginning in 1983. According to Perry, his father painted over the name during the 4th of July holiday in 1983. There's a slight contradiction in Perry's account, as he first said "he was not with his father when he painted over the name but that he ,agreed with' the decision," then on follow-up, loosened the time frame, and strongly suggested that painting the rock was his idea. The report goes on to quote unnamed sources saying that they had visited the camp with Perry as recently as 1991, while the name "N*ggerhead" was still visible, but the report also quotes some named sources who seem to contradict Perry.
Rising GOP star Herman Cain denounced Perry as "insensitive" in multiple interviews Sunday, prompting this statement from a Perry spokesperson:
Ray Sullivan, Perry's campaign communications director, issued a statement soon after Cain was asked about the camp on both the ABC and Fox morning programs.
RELATED – Herman Cain Responds To Rick Perry And The 'N*ggerhead' Hunting Camp Controversy
"Mr. Cain is wrong about the Perry family's quick action to eliminate the word on the rock, but is right the word written by others long ago is insensitive and offensive. That is why the Perrys took quick action to cover and obscure it," Sullivan said.
"As Gov. Perry told the Washington Post, `The old name has its origins from another time and era when unfortunately, offensive language was used to name some land formations around the country. When my dad joined the lease in 1983, he soon painted over the offensive word. It is my understanding that the rock was also turned over to further obscure what was originally written on it.'"
Sullivan went on to stress that Perry has appointed African-Americans to several Texas posts, including chief justice of the state supreme court and his own chief of staff.
RELATED – Don Lemon To CNN Panel: How Bad Is 'N*ggerhead' Story For Perry Campaign?
Morning Joe played a clip of Herman Cain's denunciation on Fox News Sunday to intro the story, which appears to be the trend in cable news coverage of this story, even though Cain made a similar denunciation on ABC's This Week with Christiane Amanpour. Accidental or not, the choice underscores the degree to which Cain's statements complicate this story for Perry. It's a lot easier to dismiss a "hit piece" from the "liberal media" than an attack from a rising conservative superstar on a network with a huge conservative viewership.
The clip was followed by the Perry campaign's response to Cain, and the whole story was delivered with eye-rolling disdain by Mika Brzezinski. She began on solid ground by questioning the news value of the story, a legitimate criticism that we made Sunday, and which was well-stated by CNN's Will Cain last night. Herman Cain's involvement, however, changes that equation considerably.
Less convincing was Brzezinski's fallback defense of Perry. "Do you think the word that is on the rock, that was removed three years ago," she began, "is a word that Rick Perry is running around, screaming wildly at people?"
Even the most jaded liberal has got to have a higher bar than that for racial sensitivity.
Scarborough pushed back hard. "First of all, it's not just a name on the rock," he said. "According to the Washington Post, it's not just a name on the rock."
He makes a point that hasn't really come up so far. "I can tell you this, if my camp that my father and i purchased had that name… we would probably not buy it, and then if we did buy it, we would make sure that the day we bought it the rock were removed, and we would put up a new sign. The fact that that's what this camp was called until five years ago, that the sign of the entrance of the camp had that, i mean, you just — anybody that would allow that to happen while members of the Texas legislature — just it shows such an extraordinary racial insensitivity that i think it's disqualifying."
Setting aside gentle, condescending reminders that this kind of thing is a relic of a different era, it's an open question as to whether the Perry campaign's explanations, even taken at face value, really solve this problem for Perry. Those inclined to forgiveness might be satisfied with a quick coat of paint, but many others could reasonably ask what Scarborough points out: why would you rent a camp with the name "Niggerhead" in the first place? Maybe it's a culture shock issue, maybe the rest of us just don't understand the navigation of these undetonated racial land mines, but that's not going to help Perry much.
RELATED – WaPo Report Ties Rick Perry To 'N*ggerhead' Hunting Camp That Candidate Has Denounced
Dealing with this story by issuing statements through spokesmen won't help Perry, either. Granted, this broke over the weekend, but they had a heads up, since Perry himself gave written responses to WaPo. Cain's denunciation was a game-changer, and Perry, if he is to survive this at all, needs to get out in front of this, and thread the tiniest of needles to try and defuse it.
Ironically, Mika's contempt for the camp story was driven by a desire to get to a truly unfair attack on Perry, the notion that he wants to "invade Mexico." Perry has suggested military cooperation with the Mexican government to combat drug violence there, and whether you think that's a good idea or not, Perry did not suggest "invading Mexico."
Here's the clip, from MSNBC:
Have a tip we should know? tips@mediaite.com