Joe Scarborough: Obama 'Can't Be Hope And Change'; Must Destroy Opponents To Win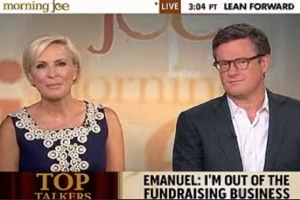 President Obama's re-election strategy was the main topic of conversation as the Morning Joe crew assessed what Obama might need to say or do in light of such a bad economy. While Joe Scarborough was most critical of Obama's policies which have failed to reduce unemployment, Mika Brzezinski and Mike Barnicle politely reminded Scarborough that in politics everything is relative, and essentially Obama just needs to campaign against the Republican nominee rather than simply discuss the economy.
Scarborough sarcastically asked whether the argument that Obama's stimulus plan "saved jobs" would sell to middle America? Mika began to respond, "it is an argument," to which Scarborough humorously interjected "there's also an argument that monkeys are going to fly into spaceships and magically create jobs, that's an argument too." With monkeys on the mind, clearly Scarborough is excited about the new movie Rise of the Planet of the Apes opening this weekend. Scarborough predicted about Obama's re-election efforts:
"He can't be 'hope and change' this time, if he wants to get re-elected he's going to have to destroy his opponents, because right now the economy is worse than it was."
Barnicle suggested that is likely true "unless [the Republicans] destroy themselves." Later, in another enjoyable exchange, Mika complained about wealthy Americans buying $1500 pairs of shoes and said "this is shameless." Yet Scarborough replied "get off of your pulpit," since apparently Mika herself has a pair of extremely expensive shoes that she received as a gift. Caught red footed!
Watch the clip from MSNBC below:
Have a tip we should know? tips@mediaite.com