Joe Scarborough: Obama Gave Progressive Inaugural Speech Because GOP 'Is A Party In Retreat'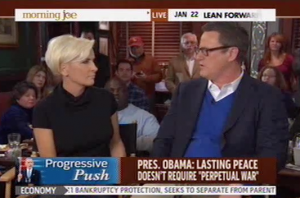 On Tuesday, the Morning Joe crew naturally took to dissecting President Obama's second inaugural address — which, most have agreed thus far, was directly progressive in its message. The roundtable agreed with that sentiment, with Joe Scarborough tying in how the Republican Party's current situation factored in.
Al Hunt agreed that the speech laid out his liberal vision of where he wants the country to be going, but that we shouldn't be surprised by it. To that point, Scarborough noted that Obama had no "reaching out to the other side" message in the speech.
Yes, Mike Barnicle said. The speech was a statement to the people watching and to other elected officials: "I won. I am far less naive today than I was four years ago, but I'm far more certain today who I am and where I want to take this country over the next four years."
Practically speaking, the panel moved on to the speech's significant focus on climate change, which Scarborough said he can't pass, but which Michael Steele said will be the "sleeping dog" of his second term. The Obamacare of his second term. So, he asked, where do conservatives go from here?
Scarborough, unsurprisingly, was happy to chime in here — noting the GOP's low approval rating compared to Obama's higher approval and "likable" image. "This is a movement, this is a party in retreat," Scarborough said, "and that's why the president did what he did yesterday."
Watch below, via MSNBC:

Have a tip we should know? tips@mediaite.com