Joe Scarborough On John Boehner: 'Not The Hardest Worker' And 'In Bars' By Five PM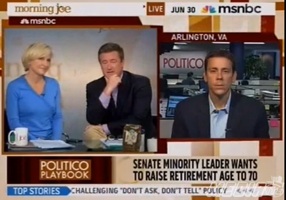 Joe Scarborough tells it like it is. Or at least he calls it like he sees it. Or something. Today on Morning Joe the former Republican congressman brought up rumors or John Boehner's work ethic — or the lack thereof — while speaking with Politico's Jim VandeHei. It's a remarkably candid moment for a morning news program that, once again, reminds of why Morning Joe is such a critical darling.
So according to Scarborough, a lot Republicans on the Hill believe that Boehner is not only lazy, but he likes to hit the bars at 5pm (not that there is anything wrong with that lifestyle mind you.) In the following clip, VandeHei seems to come to the defense of Boehner from this irreputable claim, but Time's reaffirms Scarborough's original comment that Boehner isn't considered a particularly hard worker amongst his conservative peers.
A rough transcript of the highlight of the following clip:
Scarborough: Let's talk about John Boehner for a second. I hear it on the hill, I'm sure you hear it on the hill all the time. It is not reported, but so many Republicans tell me this is a guy who is not the hardest worker in the world. After 5:00, 6:00 at night, he's disengaged at best. You can see him around town. He is not — he does not have the work hours of Newt Gingrich.

VandeHei: The bigger knock is that people feel —

Scarborough: Let's start with that knock, though. Nobody is talking about it. Every Republican says that John Boehner, by 5:00 or 6:00 at night, you can see him at bars. He is not a hard worker.

VandeHei: A lot of the bars are fund-raisers for Republicans his people might say. I don't know that that's the biggest knock. I know that's been a knock on him for some time. The bigger knock is he's been part of the leadership team for so long, and people feel he has a kind of dry approach to Republicans and politics. And Republicans cant just rely on being slightly less likable than Democrats.
In a response to Joe Scarborough's comments, Boehner spokesman Michael Steel told Politico:
"Boehner grew up with 11 brothers and sisters, and his dad owned a bar, but the only time he's 'around town' these days is to raise money for our House Republican team. Thus far this year, he's headlined more than 230 events and raised about $27 million. And that's just the beginning."
Have a tip we should know? tips@mediaite.com