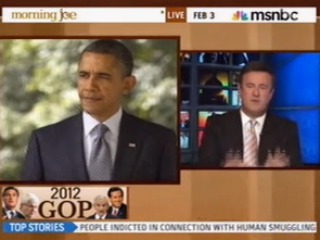 On Friday, the Morning Joe team once again tackled the question of whether a certain GOP candidate is just a little bit socially awkward, or just a little at a loss when it comes to relating to others. Mika Brzezinski referred to a New York Times piece by Frank Rich, where Rich notes that Romney's attempts at small talk "famously take the form of guessing a voter's age or nationality (usually incorrectly) or offering a greeting of 'Congratulations!' for no particular reason." Even Romney's looks, Rich writes, work against him, noting that even "at his most human, he resembles George Hamilton without the self-deprecating humor or the perma-tan." (To Romney's credit, he did recently make a pretty funny joke about "gluing my hair on" after being glitter-bombed in Nevada.)
"I think Romney has a Ken Doll problem," agreed panelist Jon Meacham. "He looks like a president. I mean, you could put him on Rushmore now."
RELATED: Dylan Ratigan: Mitt Romney's Problem Is That He's 'A Weirdo From Boston'
Host Joe Scarborough reminded Meacham that, earlier, he'd noted that President Barack Obama "doesn't seem to genuinely like being around people."
"I mean," he added, "we've got two possible major candidates who are awkward." Awkward Americans on either side of the aisle: our time is now!
And what of Mitt Romney and Ann Romney standing by — awkwardly — while Donald Trump gave his endorsement? (Then again, wouldn't that make anyone feel awkward? How does one deal with an endorsement from such a polarizing and odd pop culture figure in a way that wouldn't seem uncomfortable or contrived or just plain surreal?)
The question, then, is "does it matter"? If someone can reach a certain level of accomplishment — as both Obama and Romney undoubtedly have — would not being especially gregarious form a serious impediment to performing the duties of president? Put another way: Is this a productive narrative surrounding Romney… and Obama?
Have a look, via MSNBC:
Have a tip we should know? tips@mediaite.com