Joe Scarborough On Politics Of OWS: Obama Got More Wall St Money Than Any Candidate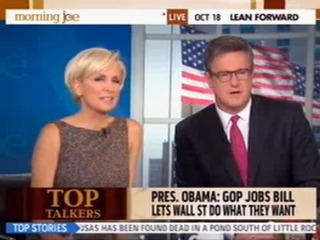 On Tuesday, Morning Joe hosts Joe Scarborough and Mika Brzezinski discussed a Wall Street Journal op-ed piece arguing that President Obama and the Democratic leadership are making "a critical error" in embracing the Occupy Wall Street protests. Indeed, the President recently took Republicans to task for an alternative jobs plan that, as he sees it, would benefit "the very people the protesters are rallying against."
This rhetoric did not sit well with Scarborough, who made it clear that, in his opinion, Obama was and is less qualified to be president than, say, Hillary Clinton or Joe Biden. Also? Joe Scarborough will not hesitate to drop a metaphor or two on you:
RELATED: Chris Matthews: Is Obama Doing Enough To Convince Liberal Voters He Cares About Income Inequality?
How can this President, Mark Halperin, say "all those Republicans, they are of Wall Street, you occupy Wall Street…" He brought in Wall Street to run his economic team. He brought in Larry Summers. He brought in people that were there at the fire. He brought in all the cows that kicked over the lanterns that burned the city down.
Panelist Mark Halperin was inclined to agree, adding that Obama received "a lot of campaign contributions" from Wall Street.
"And he got more money from Wall Street than any, you're right, than any candidate in the history of U.S. politics," Scarborough agreed.
Brzezinski broke in, asking whether any politician has passed tougher regulations on Wall Street than Obama. "It's not tough legislation," said Scarborough.
When all was said and done, the hosts and their panelists agreed that Obama's recent statements "seem a bit hypocritical" in light of the donations he's received. "Since he's become president," said Scarborough, "'too big to fail' has gotten even bigger."
Watch the video, courtesy of MSNBC:
Have a tip we should know? tips@mediaite.com