Joe Scarborough: People Like James Holmes May Be 'Somewhere On The Autism Scale'
Scarborough: People Like Holmes May Be 'Somewhere On The Autism Scale'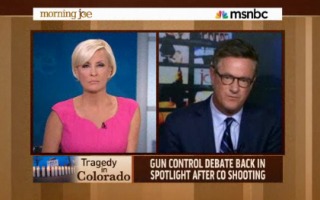 On Monday's edition of Morning Joe, the panel discussed what Friday's shooting at a Colorado movie theater tells us about gun control and mental health in America. While the panel agreed that the focus immediately after such a tragedy should be on mourning the victims, they disagreed on whether the violent shooting was an issue of inadequate gun control regulations and/or a commentary on mental health awareness in this country.
RELATED: Bloomberg: Obama 'Has Spent The Last Three Years Trying To Avoid The Issue' Of Gun Control
Panelist Steve Rattner said that he doesn't see what purpose anyone would have for carrying a semiautomatic weapon and finds it remarkable that there aren't laws about this. He also noted that, seeing how "you want good things to come from tragedies; you want to make the best of a terrible situation," he would like to see both presidential candidates come forward and have a serious discussion on gun control.
On the topic of mental health, host Joe Scarborough said he knew what profile the shooter fit as soon as he heard about the crime: most likely a young, white male from an affluent neighborhood who was disconnected from society. He added that, more often than not, "you have these people that are somewhere, I believe, on the autism scale. I don't know if that's the case here, but it happens more often than not." Scarborough himself is father to a son with Asperger's syndrome.
When Scarborough later added that the conversation on gun control "has been had," panelist John Heilemann added an additional wrinkle to the argument by noting that "guns don't kill people, ammunition kills people."
Have a look at their discussion, courtesy of MSNBC:
Have a tip we should know? tips@mediaite.com