Joe Scarborough Refuses To Believe 'Nerd' Mitt Romney Loves The Hunger Games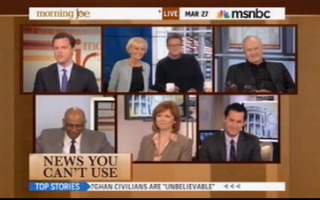 Morning Joe host Joe Scarborough refuses to believe that Mitt Romney actually read and enjoyed The Hunger Games series. Refuses! And, moreover, he can't believe Romney would take his young grandchildren to see "a movie where teenagers are hunted down and killed."
"He did not read the books," Scarborough insisted. "We know he is not telling the truth. I don't know if he went to see the movie. Because he always, you know. 'Do you go hunting?' 'Yes, I shoot varmints.' 'I like talkies.' They are not called talkies anymore, Mitt! Come on."
"He's a nerd," added Mika Brzezinski, before swiftly administrating a purple nurple* to all 563 contributors (See: Image above) it took to discuss Romney's taste in books and movies.
*Untrue.
RELATED: Mitt Romney Blasts Obama Open Mic Comment: Russia 'Number One Geopolitical Foe' Of U.S.
Scarborough also steadfastly refused to believe that Romney is a fan of any of the Twilight books. Why not take the kids to see something like Hugo, Scarborough asked. "Or the Lorax!" Brzezinski suggested. Typical hippie.
Willie Geist, meanwhile, takes Romney at his word when it comes to his purported love of YA novels. But Scarborough wasn't having any of it, insisting that Romney's professed love of teens both dead and undead is merely a ploy to win voters, not unlike professing to love "country music and pork rinds." (Who doesn't love pork rinds? Except Lorax-loving vegans, naturally.)
Have a look at the raging debate, via MSNBC:
Have a tip we should know? tips@mediaite.com