Joe Scarborough: Right-Wing Antagonizes Democratic Presidents; Prevents Ending Wars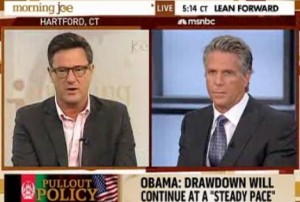 Much of Morning Joe was spent discussing President Obama's speech on Afghanistan. Joe Scarborough thought it was a "political speech" and not really an effective one, given how no one across the political spectrum seems to be happy with the plan moving forward. And since Richard Haas suggested that the overall cost savings from Obama's proposed drawdown would be very small, many on the panel were left wondering what exactly is the goal with Obama's strategy?
Donny Deutsch was confused, also thinking that it just seems purely political in that Obama doesn't want to be viewed as a President who walked away from a war. Yet Deutsch asked why it couldn't be viewed as strength, and not weakness, for an American president to leave a war and focus on domestic issues? Scarborough offered an explanation, suggesting Democratic presidents are always forced to prove their national security toughness:
"A Republican could do that. It's just the bottom line . . . a strong Republican could say enough of this war, it's time to start rebuilding America. A Democrat can't. The right-wing has always antagonized Democratic presidents and pushed them [from Presidents Kennedy to Clinton to Obama]. . . . Barack Obama knows, like all of us know, that when our troops leave Afghanistan bad things are going to happen . . . and he doesn't want it to explode on his watch."
Scarborough was disappointed with the realization that neither side wants to be accused of losing this war and that ultimately Obama is just making "a political calculation." Although with so many critics piling up for his decision to continue the war, Obama might need to soon again recalculate his political strategy on Afghanistan.
Watch the clip from MSNBC below:

Have a tip we should know? tips@mediaite.com