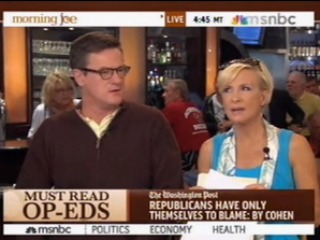 Morning Joe host Joe Scarborough — prompted in part by the characterization of "brain dead" Republicans in Richard Cohen's harshly critical Washington Post op-ed piece — had some choice words about the state of the media in regards to the GOP.
"Well, I mean, I don't know that I hear Richard Cohen complaining about a lack of experience when Barack Obama was running for president four years ago," he said. Scarborough did concede, however, that the Republican party has been doing a "miserable" job of putting forth its conservative credentials and explaining how this crop of candidates will be "different" on a number of issues, including the economy. And he feels some of the party's best candidates — like Jeb Bush and Chris Christie — decided to stay out of the race this time around.
RELATED: John King Defends His Gingrich Question: 'Damned If You Do, Damned If You Don't'
Telemundo anchor José Díaz-Balart also chastised the media — of which, of course, both men are a part — for focusing on issues like extramarital affairs during debates. (Paging John King!)
But it's not just the media, Scarborough pointed out. Romney and Gingrich could also do more to provide voters with messages and information that resonate instead of, say, singing "America the Beautiful" or discussing Kosher meals.
"One of the major things that's gone wrong is the way we cover politics," added panelist Mike Barnicle. "Politics is now — and over the last ten years has become — so intertwined with our culture that the media doesn't really cover the cultural aspect of campaigns, it just sticks with the politics. So it'll cover Mitt Romney singing 'America the Beautiful' or referencing Newt Gingrich talking about, you know, Kosher food being unavailable to seniors in Massachusetts."
He also gave an example of the media being out of touch, citing a story about a man having trouble paying for his second home. The real story, Barnicle added, is the couple with a family unable to pay for their one home while trying to get their kids into college and juggling with one income.
(If I may editorialize for a moment… For what it's worth, the media offers plenty of fluff and sensationalism and distraction, sure, but there are ALSO a variety of outlets and programs — online, in print, on TV, what have you — that offer more in-depth or introspective or long-form looks at politics, culture, and the intersection of the two. The media occupies a BIG SPACE beyond that which brings in the most viewers or page views. The consumer who digs just a little deeper beneath the surface will, ultimately, be rewarded.)
Now that I have that off my chest, have a look a the Morning Joe clip below, via MSNBC:
Have a tip we should know? tips@mediaite.com